Reading time:
5
minutes...
THURSDAY: Embarkation was mostly as smooth as it comes (apart form the queuing). After a S$10 Cab-ride to the Cruise Terminal, we were soon on-board (after only an hour of sitting around waiting to queue and then standing around enjoying the queuing).
Did I mention queuing?
It's now just after 2pm, on Thursday and at last, we're now on-board. I'll post some photos of the Ship's interiors later in the Cruise, but for now, we're attempting to empty four cases into a room that initially, doesn't look like it'll cope!


Thirty-minutes later and… actually, it swallowed everything – and we had some space left over! First time ever, we've got an empty drawer with nothing to go in it! (yet!)


A quick read-through our shoebox Cabin's compact Stateroom's paperwork indicated that there's a mandatory Safety Briefing at 5pm and Dinner at 6 (an informal dress-code on the first night). Ann's found the Laundry Room and I've already practised my ironing skills! I've also discovered the internet prices! (around $150 US dollars for about 5 hours' worth) – but we have a cunning plan to recoup some of that!


A productive time so far!
7.30pm: Dinner turned out to be excellent – a very unhurried affair and they had honoured our request for a table-for-two!


8.45pm: After a quick drink at the Commodore Club (very swanky!), against our better judgement (based on past experiences) we went to the 'Welcome Aboard' Show in the Royal Court Theatre. What a pleasant surprise! Perfectly balanced sound and some quality acts too! – Michael Burke (a talented 40s/Swing singer) and Georgina Jackson (a trumpet-playing Jazz singer, who was excellent at both!).
---
FRIDAY: We were up before the Lark (6.30am!!!!), as the Ship was docking at 8am. The reason for the early start? We're on a full-day tour today in Malaysia's capital, Kuala Lumpur (over 30 years since we were last here), leaving at 8.30.
If you've cruised before, you'll know that you need more than the luck of the Ship's Cat and a fair wind to get the first tour off and ready to go by 8.30, when docking just 30 minutes beforehand! Still, Cunard are past masters at this, so it must be possible…
…except it wasn't!


So, cue a lot of faffing around and plenty of inaction before our party, now renamed and yellow-badged: 'Group 6' for the rest of the day, headed off towards the Coach.


Once aboard, Suzie, our Guide for the day, introduced herself, and as the fleet of coaches departed, and she began her potted history of Malaysia. Weather-wise, it's not looking too bright, but hopefully, it'll get better as we've got a busy itinerary ahead of us…
Galeria Sri Perdana

Sky Bridge & Petronas Towers

Suria KLCC shopping centre

The National Monument

Independence Square

Sultan Abdul Samad Building
Generally speaking, we avoid organised tours like The Plague (they're normally well overpriced and take far too long), but today was an exception, as we're not very familiar with the Country. It was a 90-minute coach journey each way that allowed for the fact that it's a Friday, and the traffic was likely to be heavier.
It was our first real experience of seeing Malaysian drivers on the road, and after just an hour, it convinced us that next time, it probably wouldn't be safe to hire a car out here and compete with the locals. Signalling appears to be highly optional; moped-riders are natural risk-takers, undertaking is de-rigeur and many drivers seem to somehow be able to drive a hair's-breath away from the one in front, and still stop in time!
Having said all that, we didn't see a single RTC!
Back to the Tour…
Galeria Sri Perdana
Already running 35 minutes late, combined with the heavily congested traffic in the Capital, we arrived at our first stop with hardly any time to take it all in. This was the former Primer Minister's official residence, but now 'frozen in time' for the benefit of the nation and overseas visitors.

Seventeen minutes later, we were back on the Coach heading for the highlight of the day…
Sky Bridge & Petronas Towers
Given that we were already running late, there was a chance, with a bit of traditional Malaysian motor-skills, that we would still be on time for our 11am slot at this iconic building. After all, these Tour Coaches do it day-in and day-out, so what could possibly go wrong?
Well, on the first lap, our Driver over-shot his designated parking area and had to go 'round the block' again. Cue one increasingly stressed-out Tour Guide, Suzie!


Then, just in case any of us missed this unusual driving display, he missed it second time round too!


By now, Suzie was visibly ageing, as the day-time traffic got heavier, and where now, because of the ticking clock, dropping us off anywhere became a priority, wherever the opportunity arose. A few words in the local language between Tour Guide and Driver ensured that by Lap 3, our Driver had it sorted; although the resulting half-mile tailback behind him may have had a different view!


We were all now off, and inside the tallest twin-towers in the World! After some more hanging about, the temporary loss of some fellow passengers (resolved by some good ol' fashioned Malaysian herd-management by the Suzie and the Security staff) first stop was the SkyBridge (that's the walkway that joins the two towers)


The views were impressive…


…but the best was yet to come, where after a switching of Elevators, where we got to experience each other's brand of anti-perspirant, we eventually arrived at the top…

The total time 'at the top of the world' may only have been around 45 minutes, but it was worth it for the stunning views! Although I would say, there was a lot of waiting around as they rationed the number of people able to view everything at any one time.
We descended the way we came up, and we were soon attempting to reconcile numbers on the ground-floor. How can the right number of people be at the top, but by the time we'd re-assembled on the ground floor, three were missing (Did I mention that we HATE Guided Tours!). Cue, another 20 grey hairs for Suzie, whilst our MIAs eventually re-appeared from the direction of the Loos!
We now had some free time over the lunch period, and happily that coincided with the discovery of probably the swankiest of Shopping Malls housed right here in the Towers – Suria KLCC shopping centre. We were reminded that we had 'just over an hour' for eating – and after some co-ordinated wandering about, it was obvious that there was plenty of choice for nibbles!

Ann and I spotted a nearby food-court where we wok-and-rolled with the locals, tucking into our Chicken and Beef respectively, courtesy of Wok and Grill – all prepared and served in record time and with a big smile! And all for the princely sum of 18 Dingbats (£3). We followed it up with an equally cheap dessert.

We still had a bit of time to spare, so we took a quick look round the Mall. It was super-impressive with some very posh names in residence – Gucci, Samsung, Chanel, Rolex – no sign of any Tesco metros though!

An hour later, most of us re-assembled at the agreed spot, just inside the entrance – but there were still a few who had gone walkabout (hopefully in search of shops that sold watches!) Eventually, with our numbers now balancing, we climbed aboard our Coach and headed for The National Monument.
The National Monument
By now, the weather was on the change, and the sky switched from a dull blue to dark grey in a matter of seconds – closely followed by a very loud clap of thunder.


Ann reminded me that we'd been here some 30 years ago, but I only remembered some of it – specifically, the 'soldier statue'…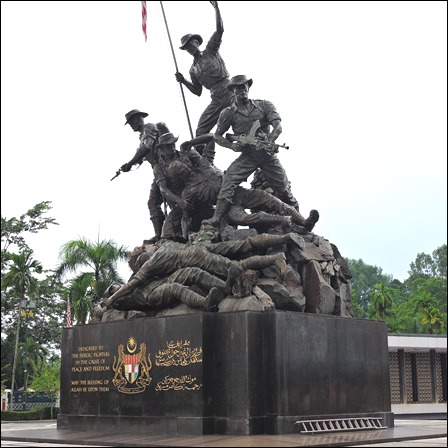 We probably could have stayed longer, but the weather was now definitely taking a turn for the worse. By the time we boarded the Coach, we expected to see animals also queuing two-by-two, instead, it was just some of our Group, (still) queuing for the Loo!
The rest of the Tour passed in a flash, due to the seriously deteriorating weather – Independence Square was viewed from the safely (and dryness) of the inside of the Coach, whilst none of us can recall the final stop on the Tour: Sultan Abdul Samad Building.
In spite of us both being confirmed organised-tour-haters, overall, today wasn't bad at all. The area around (the very colonial) Independence Square was, for us, potentially the most interesting, and the next time we're here, we are going to investigate the area more closely.
With the tour at its end, all we wanted was a quick stroll across the bridge back to the Ship, and our room, but Fate had other plans. In keeping with the Brits love of a good queue, thoughtfully, Cunard had laid on a whopper for us all. Oh joy!


Apparently, the whole Security IT system had crashed, and all returning guests were having to be manually checked back on board. It was obviously a serious matter as the crash affected all outbound Ship's emails too for the rest of the day – and crucially all internet connectivity (hence the lateness of this post).
We had another great meal in the restaurant tonight before heading back to our room to catch-up with our reading. We're still in Malaysia tomorrow, and overnight we sail to:-
We plan on doing our own thing there!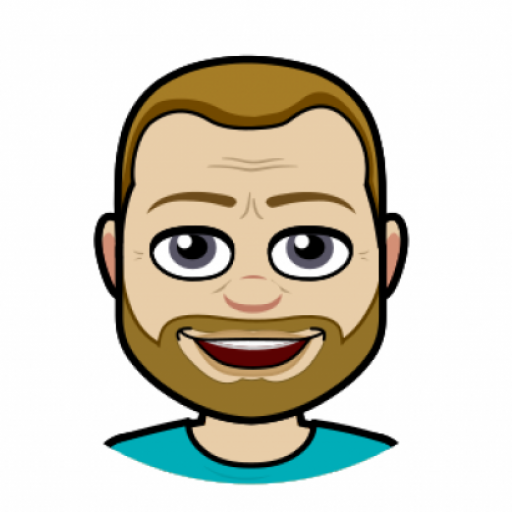 I got into blogging quite late in life, not publishing my first post until 2004 – well into my 40s!  My lifelong love of technology and communication (in all its forms), together with a fondness for the art of writing seemed to be the perfect combination to contribute a few words to the online community. But I'm no Samuel Pepys! If you're looking for deep and meaningful comments on a variety of subjects, then you've arrived at the wrong site! I only pen for pleasure! On average, my posts appear about twice per month, covering family & friends, cinema visits, eating out, holiday experiences and techy stuff. Oh, and as this is my hobby, there are no sponsored links nor adverts here – it's all done with love!
I hope you find it enjoyable, interesting and occasionally, even helpful!