Reading time:
9
minutes...
How was your Christmas? For us, as I begin penning this during the week leading up to the big day, I really didn't think we would STILL be worrying about Coronavirus! Why worry? The dreaded Omicron variant was spreading and there was the potential for the Government to lock us all down again! Almost 'right up to the wire' it was one of those "I hope not" moments!
Away from politics, and on a very personal note, it was our second year where there we didn't have parents to visit!
Then on the Tuesday before Christmas, some good news! (ish) – the PM promised no further restrictions over Christmas, as well as a financial support package for the hospitality industry to offset their loss of trade. It could have been worse… we might have been Scottish! – The PRS (aka The Peoples' Republic of Sturgeon) had gone one step further and cancelled Hogmanay and also put a limit on social gatherings! There were similar restrictions promised across Wales and Ireland too!
However, best not to get too smug for us 'south of the border' as things might be different here after Christmas and into the New Year!
Meanwhile, back in a cold Kettering, thanks to any absence of restrictions (for the moment!), we could now confidently start to pack for our Chrimbo-break with Ralph & Karen at the Oulton Hall Hotel near Leeds.
December 23rd
1.25pm: With pretty much everything sorted for our Christmas break, we decided to have lunch at The Old Forge. By complete coincidence, Jo and Janet were there too!
3.35pm: We're all packed and the car had been cleaned within an inch of its life. Just time for a final vacuum around the house and a bit of washing – and we're all ready for our Christmas getaway!
6.34pm: Time for a local walk with Jo in the spirit of healthy living before we abandon all restraint with food and drink over the Christmas break!
December 24th

(Friday)

6.43am: A quick cuppa in bed, followed by breakfast – and we're ready for our journey north!

10.29am: We're off! It was about a two-and-a-half-hour journey to the hotel plus we needed to allow time for a quick charge for EVie on the way, with us planning to check-in around 2ish.
12.39pm: A quick stop at McDonald's in Castleford for a few electrons, courtesy of InstaVolt…
…plus a few calories for us..!
We planned to meet Ralph & Karen at the hotel but when we touched base during our journey by phone, they were just a few miles from McD's too! So, we met up there for a quick chat before heading off to our destination.
The Hotel's History
2.10pm: The Hotel has had an interesting history – and the document below is worth a read. It's not your average 'Old house becomes a Hotel' yarn!
Download the history (pdf booklet)
We arrived pretty-much bang on schedule – and what a lovely place! First impressions were VERY favourable – a quick check-in, lovely staff and a beautiful room too! Oh, and there was a bottle of Port waiting for us!
It was a sign of things to come! Our stay was pretty-much food, more food and then even more food, frequently punctuated by alcohol and occasionally by some much-needed sleep! These days, we have plenty of experience with the latter, but for the former, the calorie potential here for the next few days is beyond enormous!!!
Afternoon Tea
3.05pm: After a rapid unpack, our first 'forced-feed' was Afternoon Tea in the hotel organised by staff members Robbie and Youssef. As expected, it was wall-to-wall scones, jam with double-cream, plus mountains of sandwiches, chocolate eclairs, mini–Victoria Sponges, plus loads of other sweet treats! Bottomless pots of tea complemented the calorific values! It was clear they had a great Pattiserie Chef here!
It would have been rude not to try out a little of everything (but we did try!). Somehow though, we also needed to try and pace ourselves as we had Dinner scheduled in the Hotel's Grill in around four hours! Yes, I know, it's a tough life!!
We even had time to pull a few crackers! We really enjoyed our first couple of hours here. More of the same was on the cards!!!
Dwinkies in Ralph & Karen's Suite
6.30pm: But before the next round of food, we headed off to Ralph & Karen's room for some pre-dinner drinks!
Well, that was a good start to the festivities! With Carols from Kings on the TV in the background, we increased our fluid intake even before heading for the restaurant! Looks like we missed the Hotel's Carol Service (and free glass of bubbly), but we claimed the fizz later!! sparing the rest of the guests from our singing talents – we're considerate like that!
Dinner in the Calverley Grill
7.30pm: Food again! We were soon at our table for just us four – and that's how it would stay for our time here – Perfect!
Crackers, Party Poppers, and those long thin balloons that are designed to fly, were all part of the table decs, and we were soon in the festive mood! 😁 – and soon irritating our neighbours with unwanted and unstable balloon flights!!! Yo-Ho-Ho!
We didn't have to wait long for our meal, and it didn't disappoint! Three courses, packed with flavour and well presented too! The service was also excellent where our Waiter, Oliver (from Romania) kept us entertained throughout! He even taught us some Romanian!! (specifically, why some innocent Romanian phrases, that when translated, sound like English swear words!)
Yummy! It was all delicious and piping hot (except for the ice-cream!)! 😋😋
8.57pm: We'd just enough stamina left to visit the bar and order some nightcaps – Bailey's for Ann and for me, whilst Ralph enjoyed a beer and Karen adding a touch of class sipping a glass of Prosecco.
9.45pm: Well, I was first to admit to needing my bed. There's another full day tomorrow – eating, drinking, completing the quiz – and somehow squeezing a post brekky walk in. Nighty-night!
Christmas Day

(Saturday)

Merry Christmas!!! 🎅🎄🤶

6.33am: Old habits die hard and we were both awake at our normal time – no alarm required! Merry Christmas dear Reader!

After a quick cuppa in bed and exchanging some of our smaller gifts (the larger ones were still at home), we were ready for our first breakfast in the Hotel! Note to self: "eat lightly, there's a lot of food being forced on us today, and we don't want to go bang do we?"
Breakfast in the Calverley Grill
9.05am: We dropped into Ralph & Karen's and headed for breakfast.
Certainly, the staff had entered into the spirit of the occasion! Vibrant colours and OTT suits were de-rigeur!
And just like the staffs' dress-code, there was plenty of variety (and colour) on offer – cereals, toast, fresh fruit plus the traditional 'Full English'. And for me, aiming to 'eat something light', started so well with muesli and yoghurt... (Christmas IS the time for miracles isn't it!)
…and then it all fell apart! FIVE sausages?????
10.24am: Time for a walk I think, if only to ease the guilt!!!!
It wasn't the warmest of days – certainly NOT the 11℃ promised, but it did feel very Christmassy!
For most of the walk, we didn't see another person and where the views across the golf course were pretty spectacular! Chilly though and very muddy underfoot!
We even stumbled across the local Church – Saint John the Evangelist. All the signs were that it was deconsecrated, but a quick look on the interweb revealed it was in rude health!
We didn't cover a massive distance, but it WAS good to get some fresh air – albeit very cold air!
11.25am: Well, that certainly cleared the cobwebs away. Next stop? Ralph & Karen's for a mid-morning cuppa and a general catchup…
…including the completion of the Hotel's two quizzes… 'Trivia' and 'Christmas Songs'.
Christmas Lunch in the Calverley Grill
1.30pm: In spite of a hearty breakfast (and then some!) we were all ready for the main event – Christmas Lunch! It came with a free Santa Claus (and perhaps more importantly) a free glass of bubbly!
and to finish…
…a perfect end to a perfect Christmas lunch! The Hotel worked its socks off – and it showed! 😄
3.52pm: We missed Her Majesty's Christmas message on TV as well as the Hotel's Treasure Hunt because we were still busy piling on the calories. Eventually, we waddled out of the restaurant and found a comfy set of chairs, chilling-out for a while and comparing waistlines!
6.57pm: Waistline comparisons over, Ralph & Karen came round to ours to help reduce our stock of pre-mixed G&Ts. Thanks guys!
We spent the next hour-and-a-bit in the company of Morecambe & Wise courtesy of the BBC. The first episode was their Christmas Special from 1971…
…and the second, more importantly, was a 'lost tape' not seen for over 50 years, recorded in 1970 and colourised for transmission tonight! Brilliant! They don't write them like that anymore!!!
Buffet Supper
8.45pm: With the laughter still echoing around the room, we decided to pay a visit to the Buffet. When we got there, it was 'last orders' although there was still some goodies left. Honestly, we ate lightly!
The Hotel's Big Quiz
9.37pm: We were one of the last groups to leave the restaurant and as we chewed our final mouthful we were reminded of the 'Big Quiz' by one of the staff (I think it was a subtle hint for us to leave the restaurant, so they could clear up!).
By now, we were all a bit neutral about taking part in ANOTHER quiz, but we had a go. We do like a challenge, but it was difficult to hear the quiz handler and some of the early questions turned out to be duplicates of the written quiz we'd handed in earlier, leading to a bit of confusion in the audience. It all settled down and overall, it was good fun, but a bit disorganised.
10.32pm: Thirty questions later, I think it was now the wrong end of the day for me – and the over-use of my six brain cells combined with an excess of grape was having its revenge! I wasn't alone! Ann retired first, and after we three did our duty and marked a neighbouring group's answer sheet, we called it a night too. It was unclear if they were going to announce the results there-and-then, but we'd had it!
10.48pm: Well, that's the big day over for another year! Personally, I'm amazed I lasted this long! It was all very memorable for all the right reasons! We ate (a lot), we drank (a lot), we laughed (a lot) and we walked (not a lot!). We also met Santa and we gave our brains a stretch! A fantastic time where I felt very Christmassy all day.
Boxing Day

(Sunday)

6.14am: I didn't sleep too well! Perhaps it was down to a simple case of over-eating yesterday. I wonder? Tonight was the Gala Ball where we all dressed up (photo later!) – but before then, the Hotel's Boxing Day breakfast awaits!
Boxing Day Brekky
9.10am: Bizarrely, us two were very hungry this morning! You'd think with all the food we've already consumed, we'd feel like a couple of stuffed piglets – not so!
Awaiting us, the good news was, that as a team, the four of us won the written quiz, that we handed in yesterday. Apparently, we were the only group that got ALL the questions right! A bottle of Prosecco awaits us! (Oh no, more booze!)
10.34am: All round to Ralph & Karen's where it was tempting to crack open the fizz but we settled for a cuppa.
11.39am: We probably should have walked, given the amount of food and drink we've been packing away, but instead, we took the short seventeen-mile round-trip drive back to Castleford to see the 12.10 performance of the just-released film: The King's Man. It was good to get out! For my review of the film, click HERE.
3.15pm: Arriving back at the hotel, we enjoyed another collective cuppa at ours before putting our feet-up for a couple of hours.
7.00pm: Round to ours again to finish up the remaining Champagne and Beers in our fridge!
Black Tie Gala Ball
7.25pm: Off to the highlight of the weekend – the Black Tie Gala Ball. More bubbly and more food!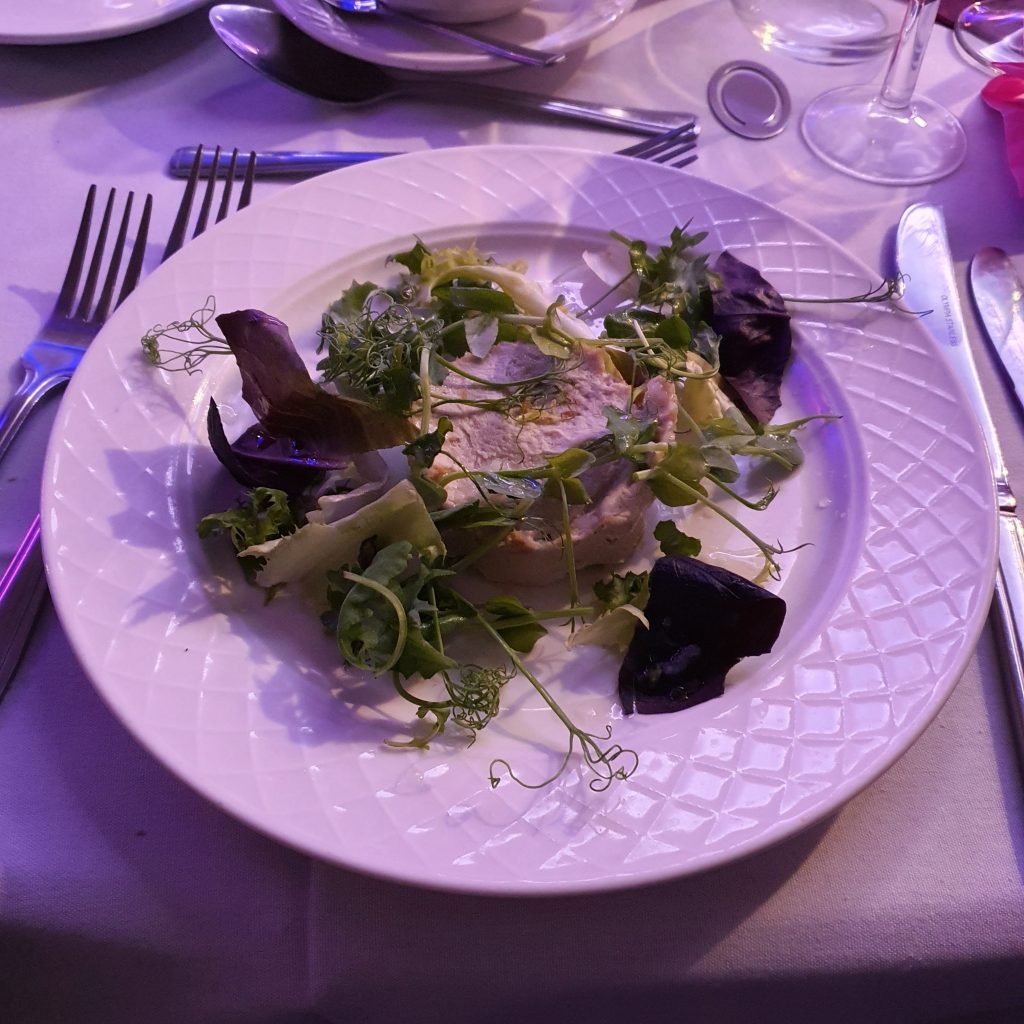 The food was, just like every other meal, was delicious!
9.07pm: Not only was there fine food laid on, there was entertainment too! The Hotel provided a DJ and a modern 'Swing' trio. The former was fine but the trio, although clearly talented, had set their amp too loud, resulting in us having to leave our table (and we were at the back!) for somewhere quieter. Maybe a sign of our age, but it was far too loud!!! It seemed we weren't the only ones, with a few others seeking refuge away from the trio in the main part of the Hotel. It was a real shame as they had fine voices, were well choreographed and had real stage presence!
We headed for the Lounge area, and on our way, asked Reception to take a photo of the four of us as a memento…
10.46pm: That's it! We're done! Again, the Hotel had done a very fine job. It can't be much fun having to watch others enjoy themselves whilst serving and clearing up the aftermath, but they did us proud and we can't praise them enough! Nighty-night!
Christmas Monday

(27th)

We checked out after breakfast – happier but heavier! It was a great stay at the Hotel where all the staff worked really hard to make it a success. We've got a lot of unforgettable memories from our short time here. Thanks Oulton Hall, you were fantastic!!

See you on the other side! Just over 100 miles until we're home, where we've still got a load of gifts to open and some Christmas TV to catch-up with including…
The Queen's Christmas Broadcast, Call the Midwife, Death in Paradise, EastEnders, A Very British Scandal, La Boheme, Dancing the Nutcracker, Anything Goes – The Musical, Around the World in 80 Days, A Ghost Story for Christmas, All Creatures Great and Small, Royal Carols Together, Carols from King's, Sean the Sheep – The Flight Before Christmas, It's a Wonderful Life, The Amazing Mr Blunden, Christmas at Holkham Hall, Not Going Out – Christmas Special, Last Train to Christmas, A Boy Called Christmas, Spitting Image Christmas Special and The Great Christmas Bakeoff.
Phew!
Christmas Past
2020
2019
2018
2017
2016
2015
2014
2013
2012
2011
2010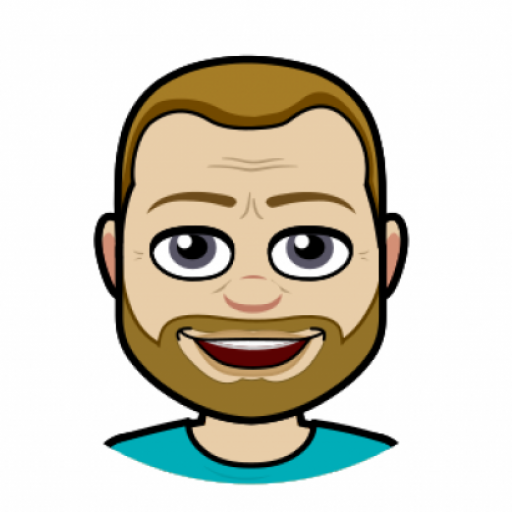 I got into blogging quite late in life, not publishing my first post until 2004 – well into my 40s!  My lifelong love of technology and communication (in all its forms), together with a fondness for the art of writing seemed to be the perfect combination to contribute a few words to the online community. But I'm no Samuel Pepys! If you're looking for deep and meaningful comments on a variety of subjects, then you've arrived at the wrong site! I only pen for pleasure! On average, my posts appear about twice per month, covering family & friends, cinema visits, eating out, holiday experiences and techy stuff. Oh, and as this is my hobby, there are no sponsored links nor adverts here – it's all done with love!
I hope you find it enjoyable, interesting and occasionally, even helpful!