Reading time:
5
minutes...
Thursday, 28th
Day 7 (of 8)
We're in Thessaloniki, Greece for a week, incorporating my Birthday celebrations (a couple of days ago)! 👍. The location is also known as Thessalonica and is the second-largest city in Greece, with just over one million inhabitants. It is Greece's second major economic, industrial, commercial and political centre, and a major transportation hub for Greece and southeastern Europe, mostly through the Port of Thessaloniki.

We're staying at the Electra Palace Hotel, and they have their photo gallery HERE.

It's primarily a cultural holiday where we're going to soak up as much as we can about this fine City during our stay.
Morning all! 😉. Thanks for your readership so far. It's Day 6 – our penultimate day here in Thessaloniki. If you've missed a Post, and want to catch up, see below.
---
<<Day 1
Arrival in Thessaloniki
<<Day 2
Sax, Stuffed Leaves
and a surprise
<<Day 3
Carpet tiles, culture
and the perfect coffee
<<Day 4
Museums, Magnificent views
and Mega-miles
<<Day 5
Birthday Boy

<<Day 6
Roses, Churches
and Foodies
---
It's certainly a nice day for it – we're heading out for a boat ride!
10:05am: After breakfast, we trotted down to the White Tower to jump on board.
10:25am: As we discovered a few days ago, the service sails from the iconic White Tower over to Nei Epivates and then onto Peraia – both suburbs of Thessaloniki. In fact, it's a popular destination where there are three Boats run by three separate companies (but they all cover the same route). The boat-service costs a mere €7 each, each way. It's a popular 'getaway' destination for city folk where there are sunbeds for hire and where pretty much every shop is a Bar and/or Eatery.
We were in time for the 10.30am sailing, where our adventure would be aboard the 'Poseidon'. Hhhhmm! 'The Poseidon Adventure'. 😲
Our vessel was functional rather than pretty (there's no Bar on board, nor any other creature comforts you might be used to!) and we were soon leaving shore heading for Nei Epivates. The seats were wooden (sans cushions) but at least there was plenty of room. The weather was improving revealing a deep blue sky, accompanied by a rise in the temperature now close on 28°C according to the Ship's instruments.
In some respects, in spite of the prospect of splinters, it was good to get away from the 'noise' of Thessaloniki. The journey lasted about an hour, and although there wasn't much to see or do (apart from viewing the Container Ships) it passed quickly.
11:28am: We docked at Nei Epivates just before 11.30. At this point, we could either stay onboard and then get off at the next stop – Peraia – or disembark here and walk to Peraia. It was turning into a gorgeous day, and so we decided to do it on foot. If we'd stayed aboard, the journey would have taken no longer than 10 minutes; by foot, assuming no stops it turned out to be closer to 25 minutes.
Nei Epivates
This suburb of Thessaloniki is famous for its sandy beaches (as we were about to discover) and we'd also read that it's (obviously) a popular destination for the stressed city folk of Thessaloniki – especially at weekends.
The beach stretched right along the length of the shoreline (as beaches do!), all the way to Peraia. The area was long and thin and from what we could make out, the water WASN'T tidal, so the sandy area remained the same size for the whole distance. In fact, in places, it was very narrow and only able to accommodate one deckchair deep. I imagine it might get quite territorial during their busy Summer weekends here!
Nei Epivates was blissfully quiet (mainly down to it being almost deserted!). However, as we walked further in the direction of Peraia, Bars and Restaurants appeared, and the area began to fill with people. We're not sure whether it was because Peraia is more popular than Nei Epivates, or was it just that as the day wore on, the area naturally got busier? It obviously IS a popular destination as we noticed there were a lot of Apartments for rent too (and we may look into that for a future break).
12:04pm: As we continued our walk into Peraia, it would have been rude not to test the quality of the coffee on offer, so we settled down at 'Melrose', a small café/bistro/ice-cream parlour.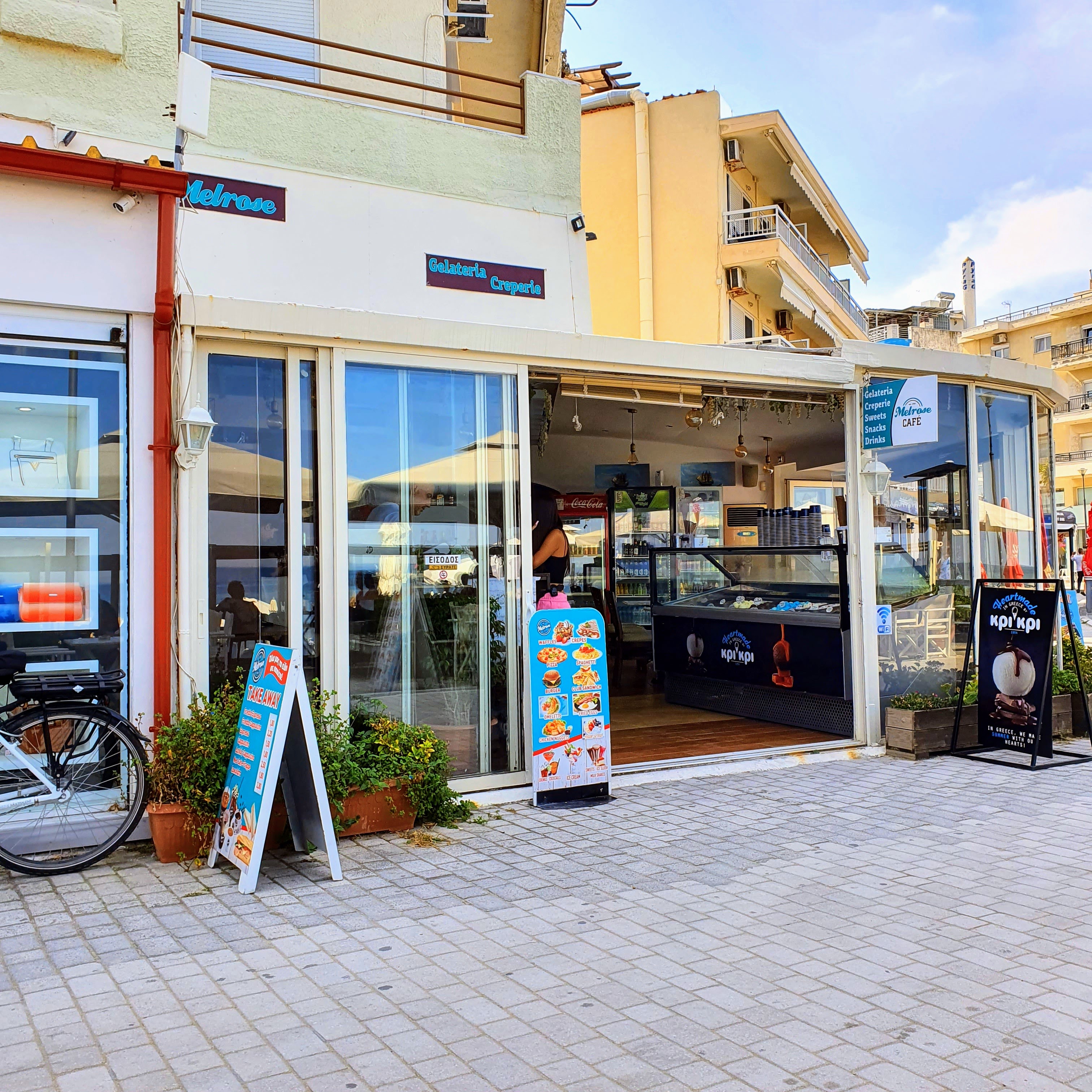 Their coffee was excellent! 😋😋…
…and the view out to sea didn't disappoint either! 👍👍. It was now getting very warm, and we were thankful that our coffees (and we) were in the shade! The drinks went down a treat! Suitably re-hydrated, we pushed on, running the gauntlet of the restaurant strip where over-enthusiastic owners were attempting to encourage anything that moved, declaring their establishment was 'the best food in town' and to 'step inside'. We resisted the temptation! 😉
12:45pm: Our final stop was at a Cafe/Bar called Theros for something cold and a small nibble. 'Final' because this is where the Bars ended. The beach continued, but it became more inaccessible because of private dwellings and other larger buildings.
We chilled out for a while (again in the very welcome shade) whilst admiring the views out to sea and enjoying the hot weather together with the very welcome sea breeze. All-in-all it had been a very pleasant walk, and we were pleased that we decided to do it all on foot.
1.17pm: The next Boat was at 2pm, and so we took a slow wander, retracing our steps back towards the narrow pier we'd passed earlier.
Not bad! Especially given the heat today! 😉
1.55pm: The Poseidon was early and once everyone was onboard, the skipper wasn't going to let the small fact that the ship was advertised to leave at 2pm, prevent him from departing! Up anchor! ⚓
With all nine passengers safely onboard and with Peraia rapidly disappearing into the distance, we headed out to sea.
Just under an hour later, we were in sight of the White Tower. We decided to remain onboard and continue to the next stop – Thessaloniki Docks. That added around 15 minutes to the journey, but it was worth it, to see more of the City.
In fact, remaining on the Poseidon, gave us the opportunity to view our Hotel from out at sea. 👍
3.10pm: As we dropped anchor in the Dock area, we realised that this wasn't the commercial side of things, but the 'posher' area that had mostly been converted to offices for small businesses or Restaurants. We decided that rather than go out tonight for a meal, we'd look for a suitable place in and around the immediate area. This 'end' of Thessaloniki is not blessed with as many eating options as the area we'd become accustomed to near the White Tower, but we did discover a place called Blanc Gastrobar along the main drag.
Well, that was an inspired choice! 👍
The food was absolutely delicious and although we've not been disappointed anywhere for eating here in Thessaloniki, this felt a touch more classy! The service was great too!
4.40pm: Back in the hotel, were began to think about packing! (🙄) and what we might do with ourselves tomorrow morning before we have to check out of the Hotel.
Tomorrow…
There's one more location that's popular here that we hadn't got around to visiting – The Jewish Museum of Thessaloniki. See you tomorrow!
💤😴💤😴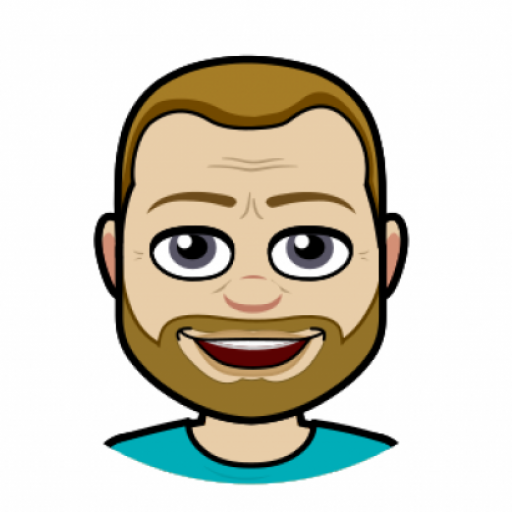 I got into blogging quite late in life, not publishing my first post until 2004 – well into my 40s!  My lifelong love of technology and communication (in all its forms), together with a fondness for the art of writing seemed to be the perfect combination to contribute a few words to the online community. But I'm no Samuel Pepys! If you're looking for deep and meaningful comments on a variety of subjects, then you've arrived at the wrong site! I only pen for pleasure! On average, my posts appear about twice per month, covering family & friends, cinema visits, eating out, holiday experiences and techy stuff. Oh, and as this is my hobby, there are no sponsored links nor adverts here – it's all done with love!
I hope you find it enjoyable, interesting and occasionally, even helpful!