Reading time:
5
minutes...
Saturday, 23rd
Day 2 (of 8)
We're in Thessaloniki, Greece for a week, incorporating my Birthday celebrations too (in a few days!) 👍. The location is also known as Thessalonica and is the second-largest city in Greece, with just over one million inhabitants. It is also Greece's second major economic, industrial, commercial and political centre and a major transportation hub for Greece and southeastern Europe (mostly through the Port of Thessaloniki).

We're staying at the Electra Palace Hotel, and they have a photo gallery HERE.

It's a cultural holiday where we're going to soak up as much as we can during our short stay.
Good Morning all! 😉, or as we attempt to say in these parts: "Καλημέρα σε όλους!" – "Kaliméra se ólous!". We're on day TWO of our week's break here in Greece.
---
Missed yesterday's Post?
---
Today would become a day of saxophones, sun, sightseeing, stuffed leaves and a surprise! Read on… 😉
Breakfast
This Hotel is known for its breakfasts! The first thing that makes it memorable, was the location – it's Rice Krispies on the roof!
A great range of 'breakfasty bits' to start our day. And whilst they may not have offered baked beans, instead, they gave us another wind instrument – a man on a sax! 😉👍
Live music whilst you munch – not a bad start to our first full day here!
10.45am: Today, we're going to do what we usually do when we're in an unfamiliar holiday location – jump on the sightseeing bus tour! There's plenty of choice for sightseeing Buses here and we chose City Sightseeing costing us a whisper under £30 in total. We booked online, expecting a bit of a discount, but there wasn't any! Ho hum, never mind! A word to the wise: if you choose to use a mobile ticket (ie the one that is sent to your phone) these are only accepted at Stop 1 (Lefkós Pýgos) – The White Tower, whereas the printed versions are accepted at any stop. Nope! I don't understand the logic either!! 🤔
On the Bus!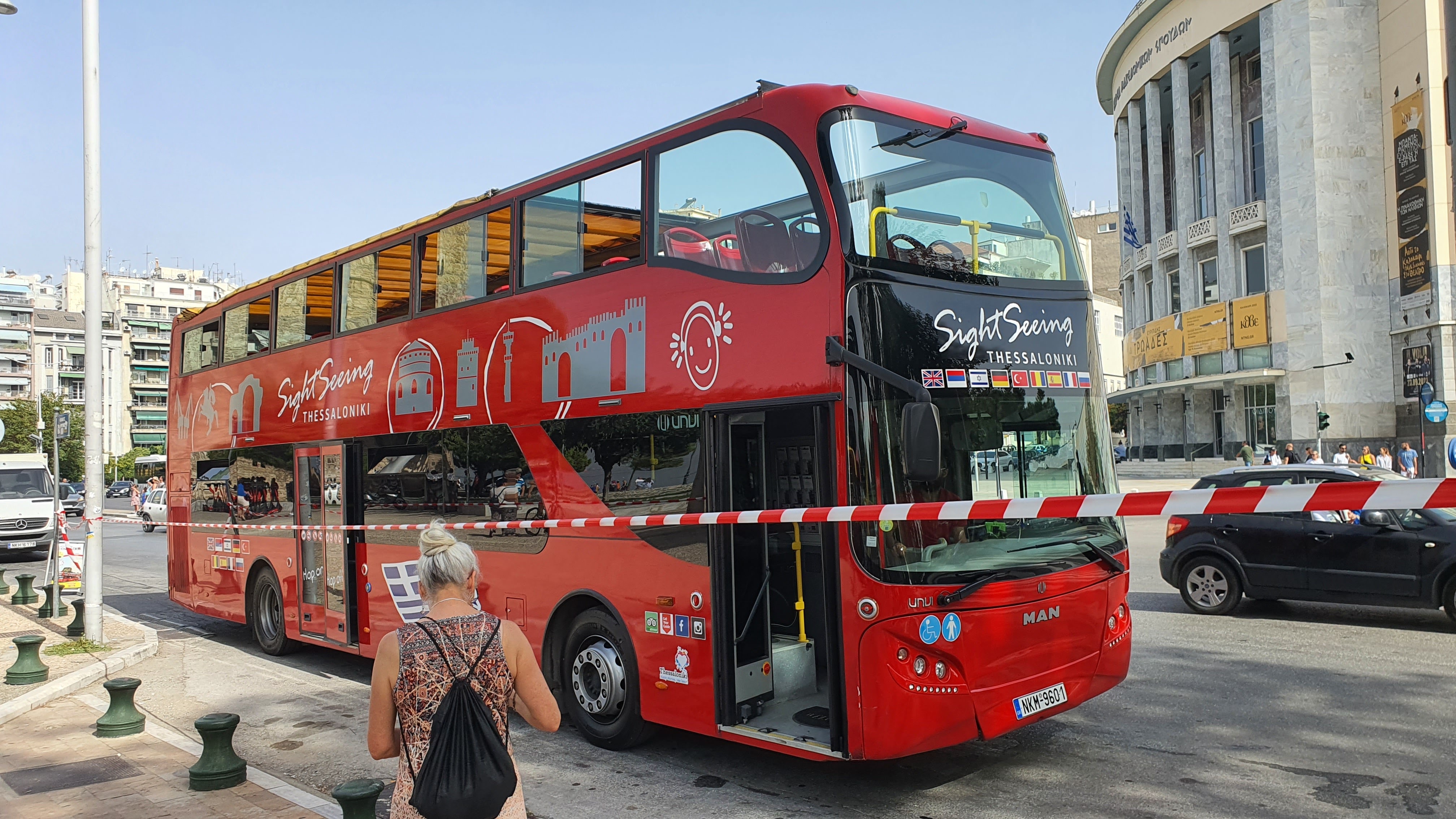 11:12am: Yes, here we are, on the Tour Bus. The more observant of you will have noticed the missing number from the above map. Yes, lucky number 3 is NOT so lucky today where the stop for The Hagia Sofia Church – is 'out of action', long-term, for 'unspecified reasons'. The good news is that it was within walking distance of Stop 6 – Kamara and Rotonda, so we were able to get to it, if we felt the urge! (We did!)
But actually, we probably couldn't have picked a WORSE day for the tour! We were told that a demonstration march was promised where the Police were closing off a lot of the roads. Some of those roads were part of our route, and so, instead, we got a 'revised' version that was shorter and where the 'hop on, hop off' aspect had been removed. Essentially, we were to get on the bus, hold tight, and not try and get off until we got back!! 🤔. Still, at least they allowed us to reuse the tickets tomorrow (a normal Tour day) if we wanted to. 🤔
Actually, the more the journey continued, the less we saw in terms of 'sites' – it was all a bit disappointing, but at least it did its job and gave us a sense of size and scale of this busy city making it the perfect dress rehearsal for tomorrow, where we plan to take them up on their offer of using the ticket a second time around.
From what we've seen out here so far, driving skills are not in great supply, demonstrated by double-parking on main roads, almost zero 'giving way' from any direction and almost no sense of vehicles in close proximity. Early days yet, but it doesn't feel it's the place to hire car. Probably the most entertaining part was watching our driver manoeuvre around the narrow streets and hairpin turns whilst coping with his fellow Greeks' legendary driving skills together with their road courtesy (err, 'few' and 'fewer'). 😨😨.
After quite a few near misses that included cars, bikes, mopeds AND (to complete the set) pedestrians, we arrived in one piece back at the White Tower. I think I can now see why the Buses are painted RED out here!! 🩸🩸. He did a great job, given the challenges, where there were no signs of damage on the bus at all! – but it must have been close 😨
Lunch(ette)
We exited the Bus and headed inland, slightly away from the main touristy eateries along the water's edge. We are attempting to eat light(er) whilst we're out here (honest!), so we weren't after anything too heavy. For a start, it was far too hot – today was particularly humid – and second, breakfast was plenty!
12.35pm: We discovered a smallish place called Oval Bitronomy that sported a varied menu AND more importantly, in the Greek sunshine and at just before 1pm, some shade – Perfect! 👍
With a beer and some soft drinks to accompany the meal, it was just what we needed – and we had change out of £30! Service was prompt and courteous, and they managed to cope with our mangled Greek/English dialect too!
Suitably fuelled, we headed back in the general direction of our Hotel, but more specifically, The Hagia Sofia Church that we'd missed out on during the Sightseeing Tour.
With the structure dating back to the 7th Century, it is one of the oldest Churches in the city still standing today.
Inside, it didn't disappoint, with its amazing ceiling and painted walls.
On our way to the Church, our walking took us along the main shopping strip of Thessalonica – think of the famous Oxford Street (like it USED to be) but on steroids. Literally hundreds and hundreds of shops including many well-known brands such as Rolex, Dolce & Gabbana, Chopard, Zara and even an M&S!!!
Imagine our reaction then, that in the middle of all these retail spaces, was the surprise of the day…
The Surprise!
1.55pm: There it was! A Monastery! Slap bang in the middle of Greece's second largest city, almost strangulated by the shops! Yes, it's not a typo, a MONASTERY, more specifically the Holy Monastery of Saint Theodora (Ιερά Μονή Αγίας Θεοδώρας). Blink and you'd miss it! (we nearly did!) 😎
Unfortunately, there wasn't any literature easily accessible there in English to explain the history, but they do have a website. And so, if Monasteries AND the Greek language are your thing, then go HERE, but watch out, it's an UNsecured website.
Now that WAS a surprise! We headed back to the Hotel just in time for an afternoon siesta.
2.50pm: Time to recharge the batteries in preparation for a wander around the area after dark.
An Evening in Thessaloniki
7:20 pm: We're off to find somewhere to eat and see whether there's a 'night life' in Thessaloniki! First impressions? There certainly is!!! Every Restaurant and Bar close to our Hotel was absolutely rammed meaning there was zero chance of getting a table. We walked further out, towards the White Tower – still manic!!! We walk even further – busy, busy!!
In all my years of travelling, I have never seen an area so densely populated with people… especially young 'uns'. The fashion out here is to wear as little as possible and it's obligatory to show off your tummy! We resisted the temptation, you'll be pleased to hear! 😉. Interestingly (or not) we saw very few youngsters with any form of visible tattoo. Soooo many people!!! It was almost as if there must have been coach loads being brought in by the Tourist Board! Honestly, it was packed in every direction. 🫢
7.39pm: Eventually, we found somewhere to eat – Kipos tou Thermaikou. As an added bonus, there was a cool gentle breeze blowing that made it all very pleasant indeed! 👍👍
Excellent service and massive portions too! Note to self: Don't have a Starter next time, you porker! 😋😋.
8.36pm: Well, we certainly felt we needed to walk that off! So, it was down to the White Tower and walk along the promenade back towards the hotel.
More hoards of people… followed even MORE hoards (who all seemed to be walking in the opposite direction to us!). Still, it was a very pleasant wander. We could see that the Bars and Restaurants were still packed, proving beyond doubt that Thessaloniki IS the foody capital of Greece!🤔
9.12pm: And as we approached the Hotel, with the temperature still in the upper 20s, the crowds around Aristotelous Square were as dense as when we'd left it. This sure is a 'happening place'!
10.25pm: Time to call it a day! More sightseeing tomorrow. Nighty-night! 💤💤💤💤💤
Tomorrow…
We're taking the Sightseeing Bus and heading for Castro – the remains of a Byzantium Castle and city walls.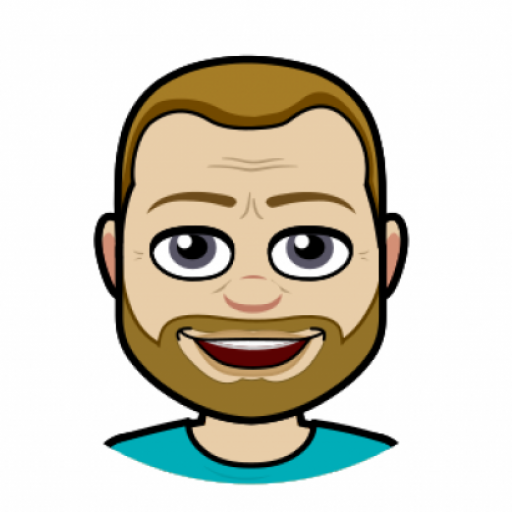 I got into blogging quite late in life, not publishing my first post until 2004 – well into my 40s!  My lifelong love of technology and communication (in all its forms), together with a fondness for the art of writing seemed to be the perfect combination to contribute a few words to the online community. But I'm no Samuel Pepys! If you're looking for deep and meaningful comments on a variety of subjects, then you've arrived at the wrong site! I only pen for pleasure! On average, my posts appear about twice per month, covering family & friends, cinema visits, eating out, holiday experiences and techy stuff. Oh, and as this is my hobby, there are no sponsored links nor adverts here – it's all done with love!
I hope you find it enjoyable, interesting and occasionally, even helpful!