Reading time:
6
minutes...
Wednesday, 27th
Day 6 (of 8)
We're in Thessaloniki, Greece for a week (incorporating my Birthday celebrations, yesterday) 👍. The location is also known as Thessalonica and is the second-largest city in Greece, with just over one million inhabitants. It is Greece's second major economic, industrial, commercial and political centre, and a major transportation hub for Greece and southeastern Europe, mostly through the Port of Thessaloniki.

We're staying at the Electra Palace Hotel, and they have their photo gallery HERE.

It's primarily a cultural holiday where we're going to soak up as much as we can about Thessaloniki (and Greece in general) during our short stay.
Welcome back, my loyal Reader! 😉.
We're on Day 6 here in the beautiful city of Thessaloniki, with just two days to go before we fly home.
It's definitely cooling down here, but 26°C is still perfectly acceptable, ehh?!! 👍.
---
You may have missed…
<<Day 1
Arrival in Thessaloniki
<<Day 2
Sax, Stuffed Leaves
and a surprise
<<Day 3
Carpet tiles, culture
and the perfect coffee
<<Day 4
Museums, Magnificent views
and Mega-miles

<<Day 5
Birthday Boy
---
9:42am: A slightly later start to proceedings today after my Birthday celebratory meal last night (that offered some beautiful views from the Restaurant, over Aristotelous Square and out across the Bay of Thessaloniki).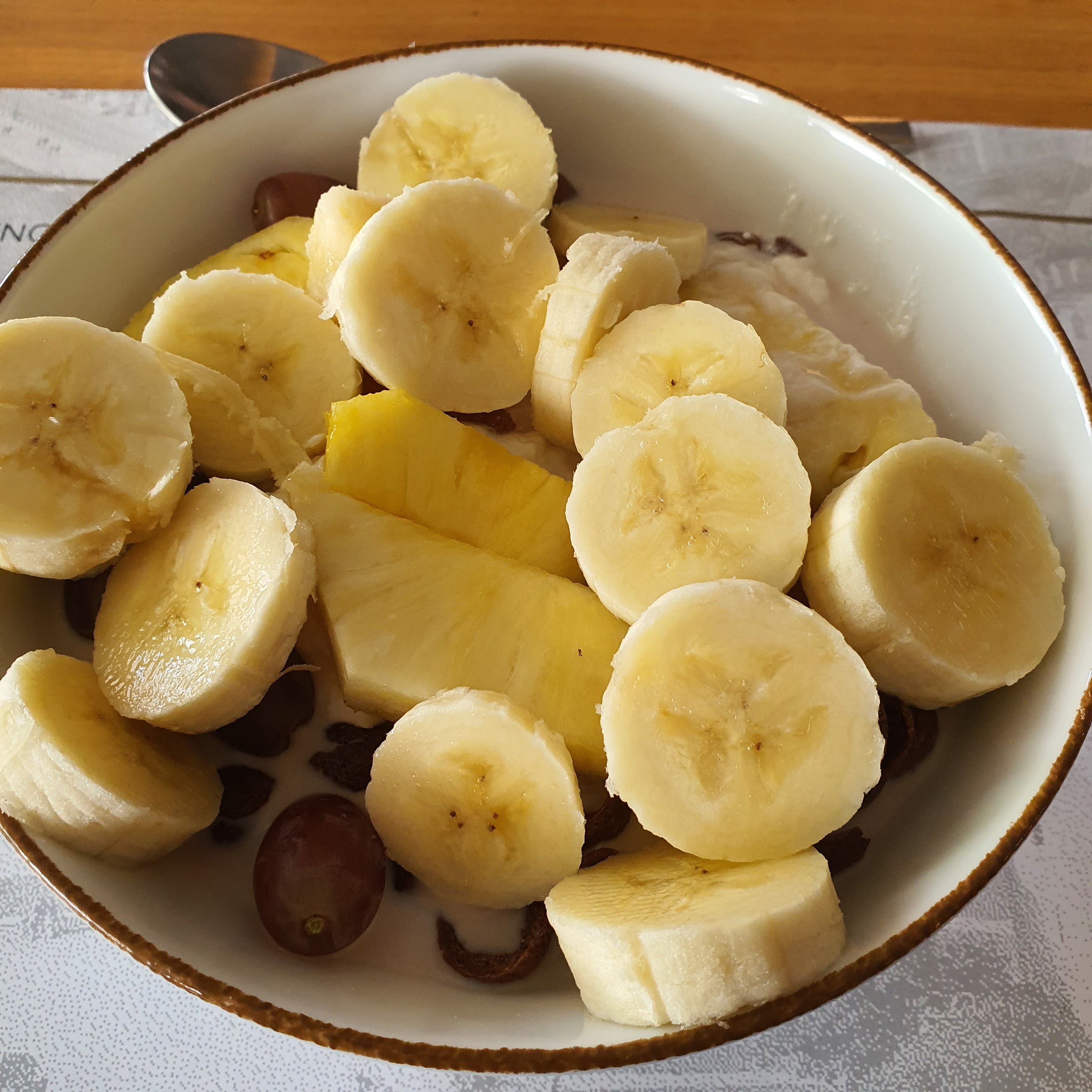 Breakfast was heaving again this morning, but the staff were very efficient at clearing the tables and we were soon seated on a table for two. Point to note: not only are the Kiwi Fruits about 75% bigger than those seen in the UK, the bananas are about 50% larger too! This suited us perfectly as I attempted to squeeze the mutant fruit into their small breakfast bowls. Ooo! we do love a challenge first thing, but fortunately, I was trained at PizzaHut, back in the day, to make the most of their free Salads 😉.
With us both now full of fruity goodness, we headed back to the room to make our plans for the day. We've visited most of the obvious attractions here in Thessaloniki and so today – still with our cultural heads on – we're covering some of the remaining haunts.
Today…
The Ottoman Pazar Haman
Agora Modiano (Food Arcade)
The Kapani Market
The Roman Forum of Thessaloniki
The Hotel Church of St Demetrius
The Rotunda
Those who know us well, know that we love 'living on the edge' and 'taking risks at the drop of a hat' – and 'laughing in the face of unpredictable outcomes'! We began our adventure in the usual way and then (prepare to be amazed!) we turned LEFT out of the Hotel instead of the usual RIGHT. OMG! With our pulses racing, we entered into totally unfamiliar territory, heading for today's first stop.
Can you feel the tension? 😂🤣😂🤣
The Ottoman Pazar Haman
10.37am: Ottoman Pazar Hamam was a Turkish Bath. The building survived the great fire of Thessaloniki back in 1917 and is located in the historic Jewish area of the City. It is one of the few Ottoman public buildings which survives to this day. Closed to the public, there isn't that much to see, apart from admiring the exterior. It is not open to visitors but does seem to attract motor-cycles! 🤔
From what I've read, there are no plans to open up the interior for curious visitors like us, but it's one to tick off if you're a 'Thessaloniki-completist'.
---
Flower Displays!
On our way to the Food Arcade (the next location on our list) we passed by a number of flower shops.
It was worth stopping and admiring the range on offer, including some 'eternal roses' (roses sealed in a container and specially treated, so they stay/look fresh). Sadly, there was no equivalent for us two! Our next stop was ideal for foodies!!
Agora Modiano (Food Arcade)
10:41am Thessaloniki is known to be the food capital of Greece and the Agora Modiano is marketed as the 'reference point for the city's gastronomy'. Well, it certainly looked the part with over 70 shops (and growing) offering pretty much anything and everything you could want to create that special dish! Built between 1922 and 1925, after the Great Fire, the recently renovated site sits on the site of the old Talmud Tora synagogue. 
It sources much of its produce from the nearby Kapani Market and even offers guided tours. Think of it as more 'Waitrose' than 'Aldi' in terms of range – and expect to pay closer to Waitrose prices!
---
The Kapani Market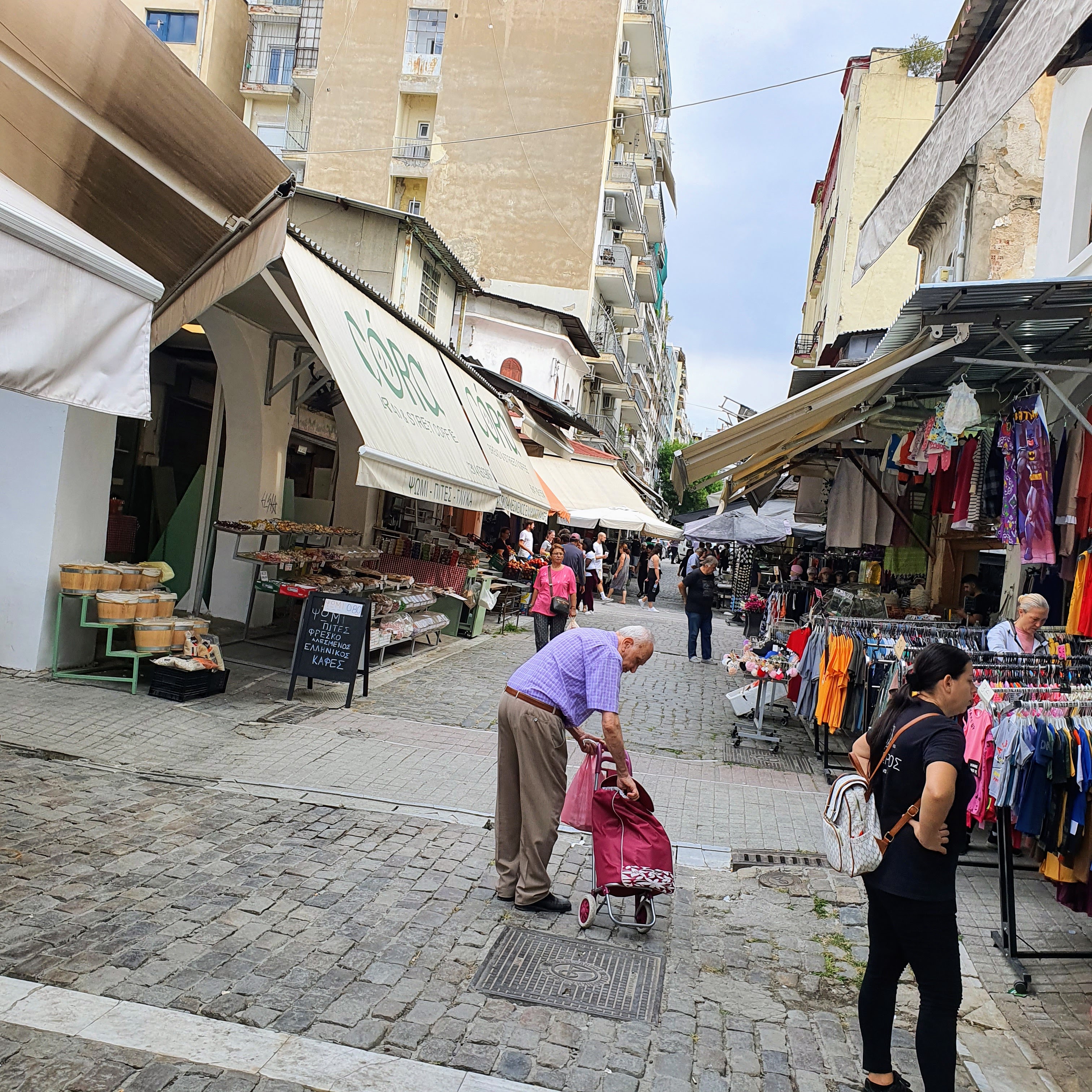 10:55am: Located close to the Food Arcade, this is just how you would expect a fresh-food open Market to look (and smell!) – especially if there is fish and fresh meat on offer! Yuk!!! In typical 'Outdoor market' fashion, we even had an authentic stallholder screaming at the top of his lungs (in Greek, obviously) to buy his wares! 😩😩.
It was such a contrast to the adjacent Food Hall – very 'back to basics', but it was easy to appreciate the symbiotic link between the two adjacent locations. Food wasn't the only essential on offer, the Market also sold a handy line in women's underwear, bras, jeans, tee-shirts and shoes across its myriad of Stalls – and many other non-foodie items too! – something for everyone, you might say! For the Baklava lover in your life, the Market provided all the flavours in all the sizes – the surprise was that one of those flavours was CANNABIS! 🥴
---
The Roman Forum of Thessaloniki
11.02am: As old as it was, the Roman Forum of Thessaloniki was a major disappointment! Given the amount of ancient artefacts there are here in Thessaloniki, although there was plenty 'on show', there wasn't much information, whilst the 'ticket booth' (well, we think that's what it was) looked like it had been abandoned! 🤔
Looking closer, we could see that there was some evidence of restoration and there was also a public walkway – but that was about it! Fresh supplies of cement and other construction essentials could be seen around the place, but no sign of any live bodies doing anything. All we knew before we visited was that "The Roman Forum of Thessaloniki is the ancient Roman-era forum of the city, located at the upper side of Aristotelous Square. It is a large two-terraced forum featuring two-storey covered walkway, dug up by accident in the 1960s" – we could have read that on Wikipedia! (so, we did!) 👍😀
Yes, this was another one for completists only, I think! Who knows? I guess it could all come alive at some point, but the absence of anybody and any detailed information on-site was an opportunity missed, IMHO.
---
The Hotel Church of St Demetrius
11:19am: And down came the first spots of rain! The first we've experienced in sufficient quantity for us to really notice it. Time to seek sanctuary inside the Church!
The Church of Saint Demetrius, or Hagios Demetrios, is the main sanctuary dedicated to Saint Demetrius, the patron saint of Thessaloniki, dating from a time when it was the second largest City of the Byzantine Empire. It is also the largest Church in Greece. This was truly beautiful inside, but the best was yet to come. Earlier in the week, just as we landed from the UK, the Jet2 Greeter mentioned this Church – but more especially, its catacombs, suggesting they were a 'must-see'.
They weren't signposted in the Church at all, and so would have been easy to miss, if we hadn't been told about them. We looked for the stairs down and were soon in a completely different world!
These are most definitely worth a look, but mind your head, as some of those archways are on the low side! 🙄.
---
11.55am: A quick pitstop in the shape of a couple of coffees courtesy of 'Vanilla' a few minutes' walk away. Nice coffees, but I think they added 10 sugars instead of just one! 😜
The Rotunda
12::30pm: The Rotunda is a circular building built as a house of worship by Romans and known for its mosaics. Reported to have been built around 306AD. For fans of more figures, it has a diameter of 24.5 metres and its walls are more than 6 metres thick. In turn, this has protected the monument over the years from man and nature – sieges and earthquakes!
It's very plain on the inside, but on closer inspection, it's hard not to admire the solid brickwork and the quality of the mosaic remains.
Admiring the internal construction and decoration, it all looked very solid! The fact that some of the mosaics could still be seen after so many years was a testament to the dedication and professionalism at the time of its construction – 1700 years ago!! It was impossible NOT to be impressed by the sheer size and scale of yet another of Thessaloniki's historic buildings.
---
Extra Church!👍😀
12.47pm: In a change to the advertised programme, we spotted ANOTHER Church nearby – The Holy Church of Panagia Dexia. Constructed as recently as 1956, it's the newest Church in Thessaloniki and incorporates magnificent Byzantine architecture along with some more modern neo-classical influences also found in other Greek Orthodox Churches.
Just two words: Absolutely stunning! 👍👍
Is it nearly time to eat? 😋
1.15pm: Time for lunch! Well, more of a lunchette really! Ann had found a highly recommended place to eat on TripAdvisor – and it was just across the road, opposite the Church we'd just visited. Ouzerie Lola is a small establishment (so small, we walked right past it!). Service was swift (but bizarrely you have to choose everything from their online menu, add it to your 'cart' – and the waiter copies it down on paper from your phone!). Weird! 🤔
Technology aside, the food was delicious, and afterwards, after settling up, we still had change from £20!
2:10pm: Arriving back at the Hotel, there was only one thing left to do…
💤💤💤💤!
(it's my age!) 😉.
That's another good distance again today! Over three miles! 🥵
Evening Meal
7.10pm: It was a welcome return to Frutti Di Mare tonight. Ann fancied the swordfish, and even I'm beginning to enjoy fish in its various forms.
Again, superb food, served with a smile! 👍😀
Tomorrow…
Not content with turning LEFT out of the Hotel, and today, turning RIGHT, we've got our sights set even further afield. We plan to take the local boat to Peraia, a popular suburb of Thessaloniki.
9.00pm: That's it for today, see you all tomorrow! 😴😴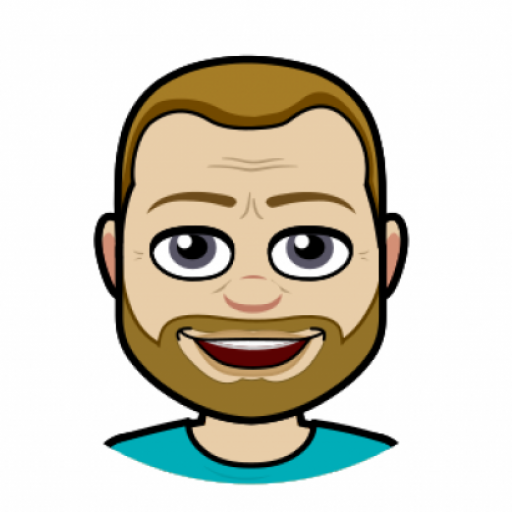 I got into blogging quite late in life, not publishing my first post until 2004 – well into my 40s!  My lifelong love of technology and communication (in all its forms), together with a fondness for the art of writing seemed to be the perfect combination to contribute a few words to the online community. But I'm no Samuel Pepys! If you're looking for deep and meaningful comments on a variety of subjects, then you've arrived at the wrong site! I only pen for pleasure! On average, my posts appear about twice per month, covering family & friends, cinema visits, eating out, holiday experiences and techy stuff. Oh, and as this is my hobby, there are no sponsored links nor adverts here – it's all done with love!
I hope you find it enjoyable, interesting and occasionally, even helpful!