Reading time:
6
minutes...
Tuesday, 25th April:
Lahaina, Maui
Morning readers. Welcome back!
After four days at sea and 2000 (ish) miles, 🥴🥴 our journey northwards from French Polynesia to the Hawaiian Islands has been completed. We arrived into Lahaina, on the Northwest coast of Maui Island (part of The Hawaiian Islands) at 10.03am local time (9.03pm, UK time).
The Hawaiian Islands
This is our first trip to the Hawaiian Islands. If you were a fan of the police television series, Hawaii Five-O, first shown in 1968 (and rebooted in 2010) then the scenery and landscape will look familiar. It's very lush and the temperature is a pretty constant 'low 70s' throughout the year. The TV series was so named because Hawaii is the 50th state in the USA, having been annexed in 1893. The Islands lie approximately 2,000 off the west coast of the USA and support a total population of around 1.4 million people. Most of the population is found on just EIGHT of these islands – Ni'ihau, Kaua'i, O'ahu, Moloka'i, Lana'i, Kaho'olawe, Maui and Hawai'i. The State capital Honolulu is situated on O'ahu Island and is the main gateway for the 10 million visitors flying in. The Islands are well known for having 5 active volcanoes and in 2021, one of the most lively, Kilauea, has erupted for 2 years creating many lava lakes.
Names-wise it's slightly confusing in that the cluster of 137 volcanic islands here are known as 'The Hawaiian Islands', but the biggest island is also known as Hawaii. To simplify things, Hawaii is regularly called 'Big Island'. Captain Cook is credited with discovering the Islands on 18 January, 1778, originally calling them 'The Sandwich Islands' out of respect for the Earl (not Pret a Manger!). Initially, a successful venture, where the indigenous people saw Cook and his crew as visiting Gods, it ended badly after his ship ran into problems, and on his return, the locals used him for spear practice! 🧐
Paradise Found! (click here)
Well, this is the BIG one! Probably the most varied and lengthy holiday we've ever taken!
As you can guess from the title of the Posts, our 28-day jaunt near and around the Pacific Ocean involves land, air and yes (a lot of) sea! We originally planned to do this one a few years back, but Covid got in the way! But on a positive note, at least we've had plenty of time to pack!
Our Pacific Paradise began by heading to Heathrow by taxi, then taking the Virgin flight to San Francisco – we spent three days exploring the city. Next, it was back on a plane to take us to Tahiti for two more days. We then picked up the Oceania Regatta for an 18-night cruise and explored parts of French Polynesia (taking in the islands of Bora Bora, Rangiroa and the gorgeous Nuku Hiva). Next, we headed 2000ish miles north to the Hawaiian Islands. After twenty-six days, we will disembark in Los Angeles, where we round it all off with two days in Venice Beach, before flying home to Heathrow, again courtesy of Virgin. Phew! 😁
For a quick summary of our holiday plans, click on 'Paradise Found' above 👍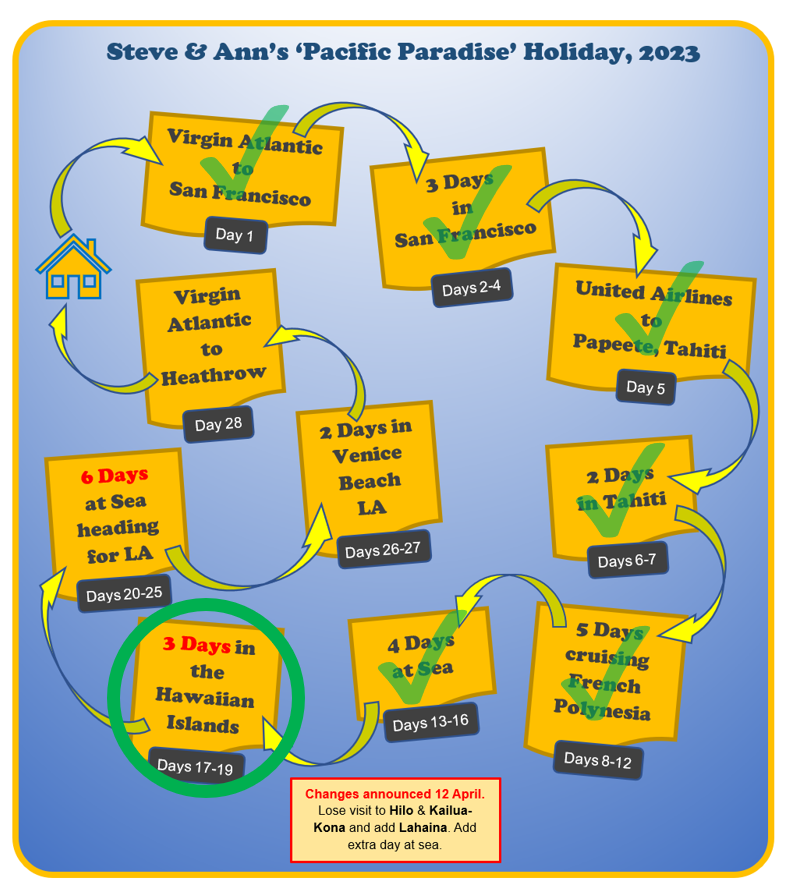 About Lahaina
Our visit today is to Lahaina on the Island of Maui. Its life began as a small fishing village, and was originally the royal capital in 1820 under King Kamehameha II. It remained the capital until 1845, when it was superseded by Honolulu. It later became better known as a whaling port for the development of its sugar and pineapple industries.
Lahaina includes the Kaanapali and Kapalua beach resorts and they're very popular. The population is nowadays around 13,000 (2020), but during the tourist season, the population can swell to nearly 40,000 people.
But first, we had to get there! Sounded simple, but it seemed Mother Nature and Humphrey (the Patron Saint of Government Bureaucracy) had other plans – at least for now! We dropped anchor just after 10am (ahead of schedule by 1 hour) and awaited US Immigration to board the Ship to inspect everyone's paperwork. The weather forecasters had predicted rain, but although it was a bit grey overhead, surely it would stay dry? By 10.45, our Deck was called, and we headed for 'inspection'. So far, so dry!
After queuing for 15 minutes to fill in our immigration forms (Hello USA! What exactly was the point of completing the online ESTAS?) we were on our way (sort of!). It was supposed to be around 20 minutes by Tender to the shore, so what could possibly go wrong!
Well, first we had a 45-minute wait to board the vessel, to get us to the shore. It looked like they had seriously under-estimated the number of people who wanted to go ashore as soon as they could. Once aboard, Mother Nature then did her thing' and the Heavens opened, as forecast! And some! So much so, that after fifteen minutes, with the quayside of Lahaina in sight, our Tender turned around and headed BACK TO THE SHIP!
No explanation! Oh! How we laughed! 😕
Once we were within sight of the Regatta, we then turned 180 degrees and headed back for the shore again. No-one had a clue as to what was going on, and you could cut the atmosphere with one of Regatta's beautiful butter-knives. The laughing subsided. 😉. Cue quiet mutterings of quotes from 'Mutiny on the Bounty' and comments such as: 'Good job they weren't in charge of the D-Day landings'. All a bit harsh, but it did have a whiff of disorganisation about it.
Once ashore, with our umbrella primed, it was clear to see why Lahaina's popularity as a tropical getaway has made its real estate some of the most expensive in Hawaii (many houses and condominiums sell for more than $5 million). The shops, the cars and the general feel of the place oozed money. And why not!
All credit to our Skipper, he was clearly in uncharted territory, in appalling conditions, but did a great job of getting us safely to the shore. If anyone deserved some of that American 'whooping' we become so accustomed to since we began the Cruise, then it was him. Sadly, this group was not for whooping!
We couldn't hope to do the location justice in the time we had here today (especially because of the weather), so we concentrated on various 'touristy' cultural parts that were easy to locate and we'd already read something about.
That famous tree!
The famous Banyan Tree was our first stop. This tree has been around since 1873 and is thought to be the largest in the US covering almost two acres – yes, you read that correctly! 😮 More information HERE.
The Old Courthouse and Heritage Centre
Whilst it was now lashing down outside even harder, we took refuge in the nearest building. What a find! Plenty of local history and well presented too! — The Old Courthouse & Heritage Centre is well worth a visit.
The 'High Street'
There's plenty to see here – and at last, some proper shops too! You know the sort – they had doors, windows and AC 😉 – and the now familiar sight of roaming chickens too (just like Tahiti)! Judging by the number of art and craft outlets, it was clear the area had money! I heard someone buying a print by a local artist for a cool $2900. Mind you, at $4 for a bag of sweets, we did our bit for the local economy too! Maybe a local print for us NEXT time??? 🤔
Architecturally, it all looked very attractive, clean and tidy! Even with the appalling weather, it was really busy too! Especially the eateries that all looked almost full. The weather continued to re-define 'a bit of a downpour' and that took the shine off our experience today. With the umbrella on overtime, we didn't find the two other well-known cultural attractions: The Old Fort nor The Old Prison that had been part of our plan. Oh well! We'll just have to come back again, when the sun's shining!
We decided to call it a day, sadly, much earlier than planned and so we headed back to the Regatta. Ironically, back on board, the rain stopped and the sky began to change from DARK grey to LIGHT grey – the worst day for weather so far, reflected in that we were 'in and out' in just over two hours (like many of our fellow passengers).
Just time then to list the 12 things we've learned about The Hawaiian Islands so far…
Twelve facts for your next Hawaii Five-0 Trivia Quiz
Barak Obama, the USA's 44th President was born in Honolulu in 1961
On 7th December 1941, the Japanese carried out a surprise attack on the American Pacific naval base of Pearl Harbour, just outside Honolulu. This bought the USA into joining the allies in WW2
In 1779, Captain Cook was killed by local natives on the Hawaiian island of 'Big Island'
The ukulele instrument, made popular by the entertainer George Formby, was invented in Hawai'i around 1880
The Hula is a native Hawaiian dance and it bears no resemblance to the potato snack
The local cocktail, Mai Tai, is made from rum, orange Curacao liqueur, and lime juice
It's estimated that two-thirds of the entire North Pacific humpback whale population returns to Hawai'i every spring to breed and calve
There are only 13 letters in the Hawaiian alphabet
There are no snakes on the Islands
Gambling is not allowed!
It's the only US State with TWO official languages (Hawaiian and English)
The Hawaiian flag contains the Union Jack/Flag (we occupied the Islands for about 6 months in 1843)
Tomorrow, we're in Honolulu for two days – and we've got plans. Let's hope the weather improves! See you then! 👍👍
---
Missed a Post?
Click HERE
---
Camera Roll
(Updated Daily)
Click HERE
---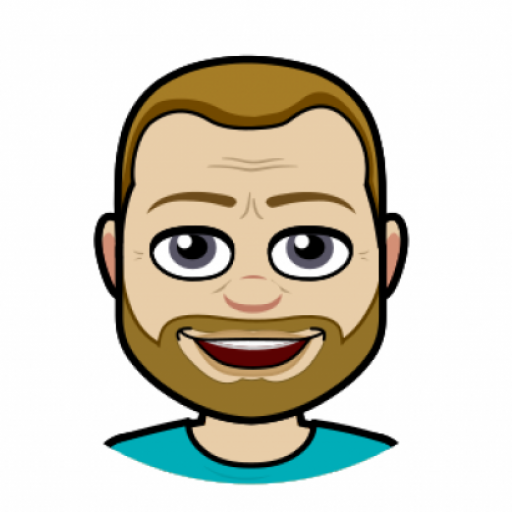 I got into blogging quite late in life, not publishing my first post until 2004 – well into my 40s!  My lifelong love of technology and communication (in all its forms), together with a fondness for the art of writing seemed to be the perfect combination to contribute a few words to the online community. But I'm no Samuel Pepys! If you're looking for deep and meaningful comments on a variety of subjects, then you've arrived at the wrong site! I only pen for pleasure! On average, my posts appear about twice per month, covering family & friends, cinema visits, eating out, holiday experiences and techy stuff. Oh, and as this is my hobby, there are no sponsored links nor adverts here – it's all done with love!
I hope you find it enjoyable, interesting and occasionally, even helpful!