Reading time:
5
minutes...
Wednesday, 19th April:
All at Sea! Heading for Nuku Hiva
Thanks for letting me know that some of my recent postings are not making the journey to your end! I have no idea what's going on, but it's being investigated back in the UK as I write this. Hopefully, things will improve over the coming days. Actually, if you're reading this, then things ARE working for now. Day 9 and Day 10 have been particularly elusive for some of you (perhaps try these two links again, if you missed them).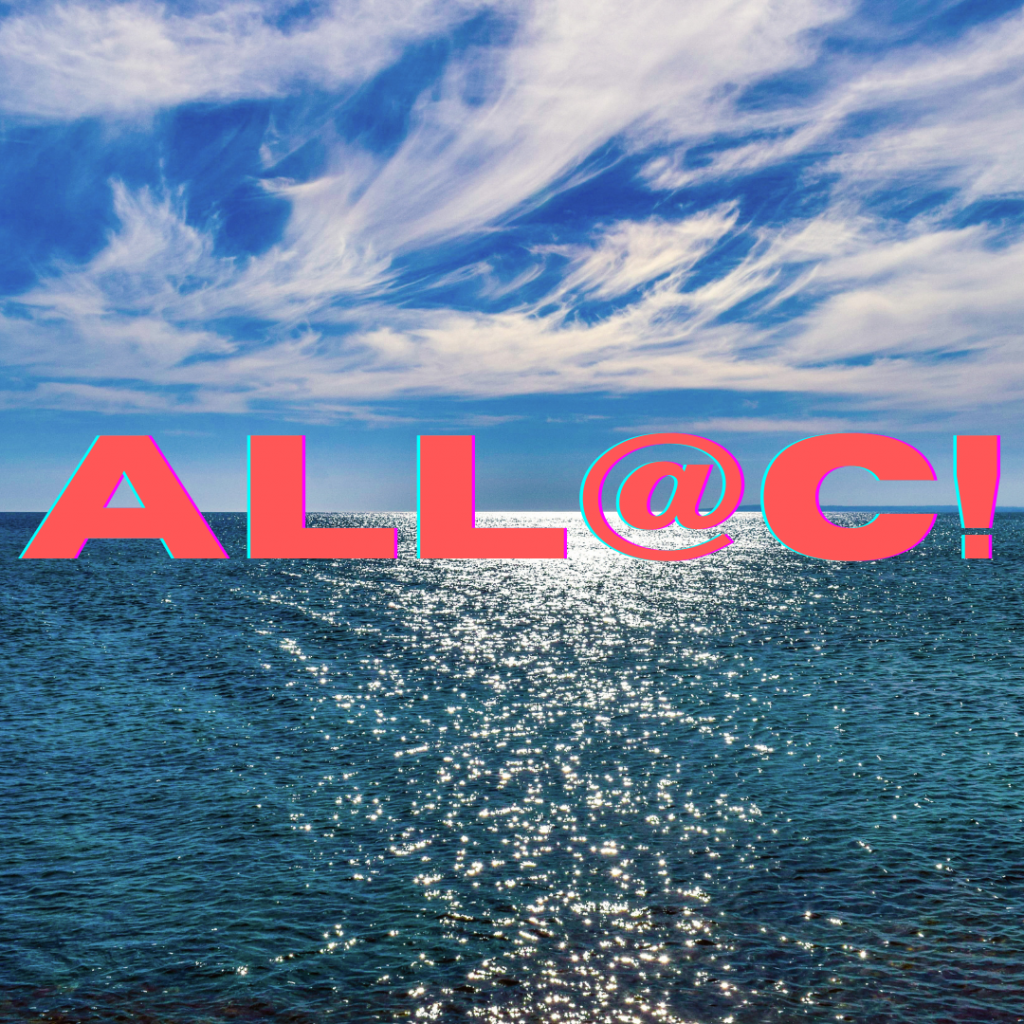 Good morning all! 👍😎. It's Day 11 of our holiday and our 4th day on the Ship.
Today, we've got a whole day at sea, and from our experience of Cruising, that means one of two things. Either, it's a day to look forward to (without the routine of rushing on and off Tenders, or worrying about missing the ship sailing). Or, it's 'What the heck do I do with myself, now I'm stuck on the Ship with nowhere to go?'
We're firmly in the first camp, grabbing the opportunity to catch-up with our reading and enjoy a totally unstructured day. Me in an unstructured environment? Surely not!! 😉
Paradise Found! (click here)
Well, this is the BIG one! Probably the most varied and lengthy holiday we've ever taken!
As you can guess from the title, this 28-day jaunt near and around the Pacific Ocean involves land, air and yes (a lot of) sea! We originally planned to do this one a few years back, but Covid got in the way! But on a positive note, at least we've had plenty of time to pack!
Our Pacific Paradise began by heading to Heathrow by taxi, then taking the Virgin flight to San Francisco – we spent three days there exploring the city. Next, it was back on a plane to take us to Tahiti for two more days. We then picked up the Oceania Regatta for an 18-night cruise exploring French Polynesia (taking in the islands of Bora Bora, Rangiroa and Nuku Hiva). It's then north towards the Hawaiian Islands. After twenty-six days, we disembark in Los Angeles, where we round it all off with two days in Venice Beach, before flying home to Heathrow, again courtesy of Virgin. Phew! 😁
For a quick summary of our holiday plans, click on 'Paradise Found' above 👍
As we head for Nuku Hiva, our next French Polynesian island, with no rushing around needed, as promised, here's a fuller description of our Cruise Ship – Oceania's Regatta. Today, I'll cover the ship's layout, what's on offer (and what's not) and the comfort levels. In later Posts, I'll let you know more about the eateries, entertainment, staff and passengers here on board.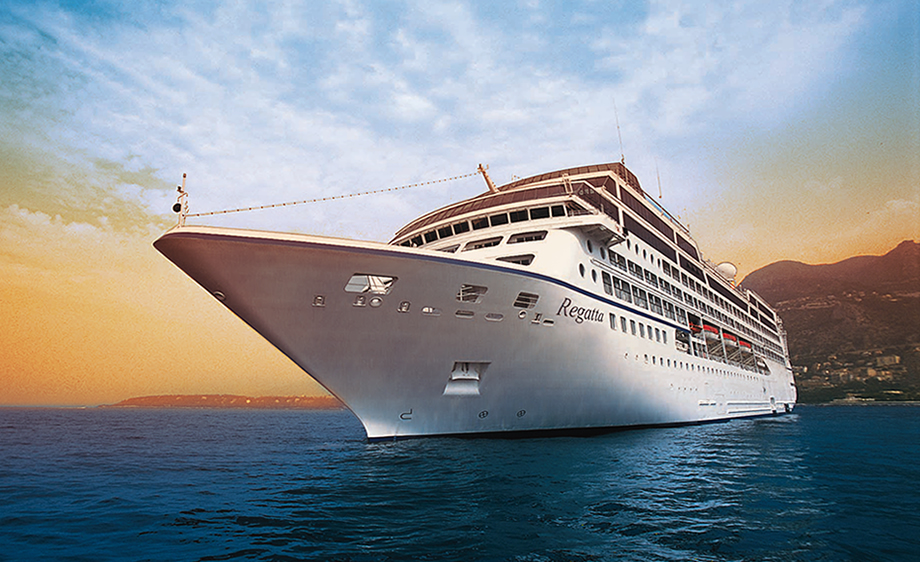 About the Regatta
Built in 1998, it was given a makeover in 2019. Some of our cruise buddies think it has enjoyed a series of previous lives under a different flag, with various names. Technically, it's a 'mid-size' ship (but it does feel a bit cramped in places, to us). Regatta is part of the larger family of ships owned by Oceania including: Insignia, Nautica, Sirena, Marina and Riviera.
For numbers fans, here's a breakdown of some Regatta's vital statistics:
Gross Tonnage – 30,277
Length – 592 feet
Beam – 83.5 feet (that's 'width at its widest point', land-lubbers!)
Bow Thrusters – 2 x 750kW (to put it in perspective, our EV is 64 kW!)
Maximum Speed – 18 knots
Maximum draft 19.5 feet
Passenger decks – 9
Maximum number of passengers – 684
Number of Staff – 400
Number of Sprogs – 0
Cruising is often defined by the preferred dress-code whilst onboard. The days when pretty much ALL Cruising required the guys to dress up like penguins have long gone. Yes, it's still a requirement on some ships – but not on the Oceania fleet. Here, there's a bit of an obsession with the rules for wearing baseball caps and consequently, the dress code is very relaxed. There is no requirement to wear a jacket or a dress at any time (have you seen me in a dress? How? When?). Officially, we're "elegant, yet casual" (but enough of Mrs P!)
Across its nine decks, the space has been used cleverly. If you like Libraries (remember those!) then there's an impressive one here on board, but it is a long way to come to pay your fine! 😉
Other facilities include:
An internet room for err, the internet
Two speciality restaurants – Polo Grill and Toscana (more about those in a future Post)
Horizons. An upmarket Bar at the top of the Ship where you can see for (nautical) miles
The Casino
Bingo
Card Room (including Bridge lessons)
Dance classes
Various Shops sorry, Boutiques
The Grand Dining Room (where breakfast, lunch and evening meals are served in a more formal way)
The Terrace Cafe – an alternative to Grand Dining Room in that it's much less formal (and a bit of rugby scrum, if you time it wrongly)
Waves Grill (for burgers and ice-cream)
A Spa for relieving your aches, pains – and savings – in record time
Various Bars – Baristas, Martinis and the Grand Bar
Numerous Lounges
Free movies in your Stateroom (a little like the airlines for range and ease-of-use)
Fitness Centre (Bugger!)
Launderette (far too small for the number of passengers – and there's only ONE!) Wash wisely Skywalker!
Afternoon Tea (How very British… and full of Americans!)
If sporty activities are your thing, then there are a few choices:
Swimming
Indoor Putting
Table Tennis
Shuffleboard
Bean-bag tossing (nope, me neither!)
For more cerebral pursuits, the initial test is always finding your way around the ship in the first couple of days. Even we found ourselves at the wrong end on a couple of occasions! Once that's mastered, the rest is much easier, including:
The Daily Mensa Test
Brainteaser Trivia Quiz
Enrichment Presentations
Getting the Waiters to put the tea-bag actually IN the teapot, not serve it separately on a saucer
In other words, pretty much everyone is catered for here. Things feel expensive on board, not helped partly by the dollar/sterling exchange rate. You'd expect me to comment about the 'tech' and specifically the internet – so I will! Every cruise line has their own way of offering the internet, but Oceania's approach is a bit weird. Essentially, it's free for one device at one time per CABIN (not per person). So, if you rely on your essentials being delivered digitally, daily newspapers, emails, Kindle books and magazines, as we do, it's all a bit of a faff. If you require the luxury of extra connections (and also something a bit faster), it's very pricey – at the time of writing, it costs upwards of £20 per DAY extra (PER DAY!!!!) for another connection! Really?. The free version is certainly OK for casual posting, but uploading photos (and anything more complex, such as my Blog) presented some real challenges because of the speed and more especially the latency.
And talking of prices, if you've come on the Cruise to drink yourself stupid, there's a package for that! For a mere USD$59.95 per day, you can drink as much as you like, when you like for as long as you like! Yikes! That's a heck of a target! 🥴🥴
Helpfully (and oh! the irony) there's a 'Friends of Bill' (Alcoholics Anonymous) meeting place here too!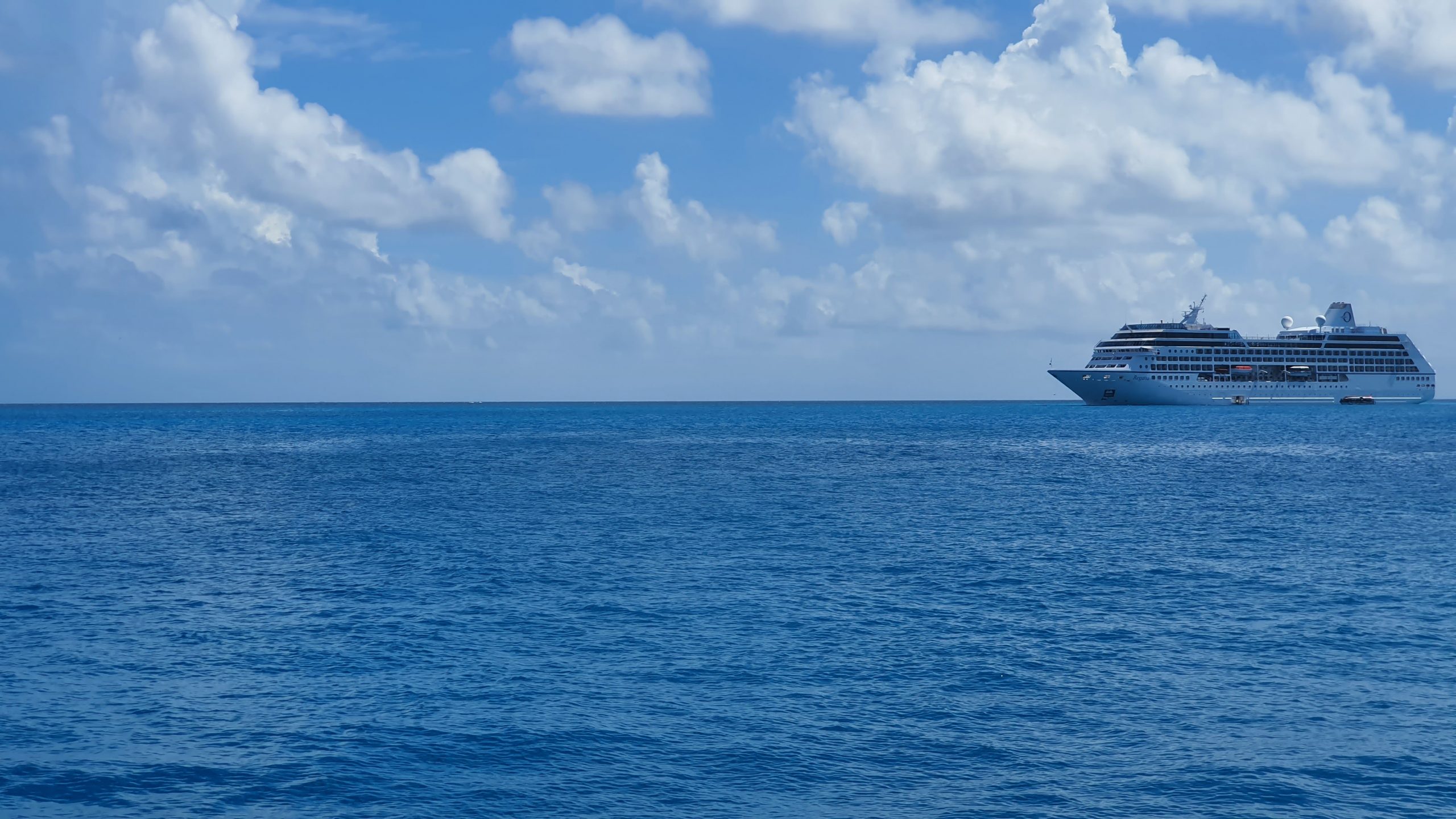 Overall, so far, it's been a very enjoyable experience. OK, in places, she feels a tad small, so forget about taking two bottles a cat into the shower with you – swinging is generally discouraged, even in these more diverse times. The same applies to the main outdoor Pool – more a puddle and the smallest we've ever seen on a Cruise Ship. Meanwhile, decor-wise, inside, there's plenty of wood on show, and that gives the Regatta a 'classic feel'. In spite of the cosy ambience of the bathroom mentioned earlier, the cabins, sorry, 'Staterooms', make the most of the limited space easily concealing the kitchen sink and taps that somehow got into our suitcases! 😮. Irena is our Cabin Maid and has redefined 'ship-shape' in our room. Thanks Irena, we have some jobs for you at home! 👍. Our bed is super-comfy and for this snowflake generation, the air-conditioning is effective without freezing yer barnacles off! ❄️
On our particular voyage, the Ship felt about 60-70% full giving this smaller vessel a more spacious feel. Helpfully, on those nights when we fancied just a table for two in the restaurant, it wasn't a problem. Regatta rode the waves well – literally! In spite of its size, we never really felt any serious motion apart from the occasional twitch. In short then: "An old one but a good one!" (but enough of me!), the Regatta holds its own in an era of mega-cruise ships with their outdoor cinemas and other bigger-must-be-better facilities.
I hope this short description has been helpful to virgin cruisers and the more experienced. Our next sea day is this Friday, where I'll be sharing more of our onboard experiences!
Tomorrow, we're back on the treadmill (I know, 'poor loves') visiting the island of Nuka-Hiva (the largest of the Marquesas Islands in French Polynesia in the Pacific Ocean). In 1813, it was originally named Madison Island. (Honestly, I'm great fun at parties!) 😉
Sleep well! We are! 😴😴😴😴
---
Camera Roll HERE
(Updated Daily)
---
Missed a Post?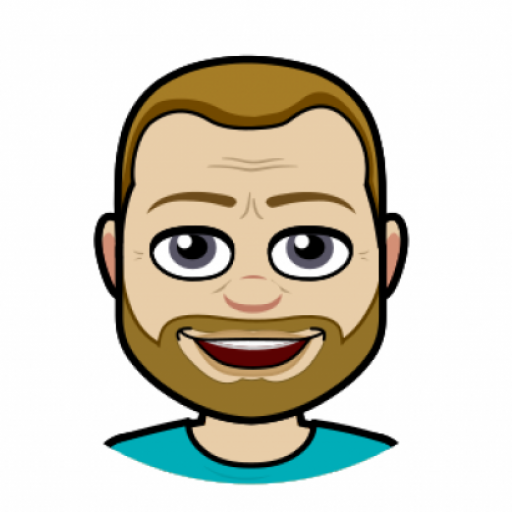 I got into blogging quite late in life, not publishing my first post until 2004 – well into my 40s!  My lifelong love of technology and communication (in all its forms), together with a fondness for the art of writing seemed to be the perfect combination to contribute a few words to the online community. But I'm no Samuel Pepys! If you're looking for deep and meaningful comments on a variety of subjects, then you've arrived at the wrong site! I only pen for pleasure! On average, my posts appear about twice per month, covering family & friends, cinema visits, eating out, holiday experiences and techy stuff. Oh, and as this is my hobby, there are no sponsored links nor adverts here – it's all done with love!
I hope you find it enjoyable, interesting and occasionally, even helpful!