Reading time:
5
minutes...
Saturday, New Year's Eve 2022
Welcome back Readers of fine travel literature – and to my Blog! 😉
We're now on Day 3 of our New Year getaway here in a very (very) damp Suffolk. We're staying at Church Farm Holiday Park in Aldeburgh with mates Jo, Janet & Carol. In spite of being surrounded by four women for two days, I'm still sane – and more importantly, so are the girls!
It's a short walk/drive to Aldeburgh town whilst the Beach is even closer (not that we'll be sunbathing, based on the forecast)
---
You might have missed…

Day 1 – Arrival

Day 2 – Aldeburgh
---
To be honest, the weather hasn't been too kind since we arrived (The UK in December on the East Coast – what were we expecting?) – but the food, the drink, and the company has more than made up for the shortfall in sunshine! 👍.
Yes, true to form, the weather there was pretty similar to Aldeburgh, but there are worse places to be than stuck inside a Brewery when it's raining outside, isn't there? 😀. It wasn't difficult to work out how to pass the time!
Today, in preparation for our planned alcoholic excess tonight, we're getting into practice by heading to Southwold – and a Brewery! 🥴
10.20am: What a horrid journey! Rain for most of it plus dual carriageways rarer than hens' teeth! The 23 miles took just under 45 minutes! Nothing wrong with Janet's driving, it was just that the roads were busy/slippery/narrow – and sometimes all three! Absolutely ridiculous for an A-road in 2022! 😲
But before the promise of alcohol at the Brewery, it made sense to eat something to soak it all up! Lucky us, after finding one of the few parking spaces here, we discovered that Southwold also sported a Two Magpies Bakery (just as in Aldeburgh).
Others were more restrained, but for Ann and for me, it had to be the Pork & Cranberry Sausage Roll! (the diet begins in January!) — as expected, absolutely delicious!!
Adnams Brewery
11.30am: Southwold is famous for the Adnams Brewery. Founded in 1872 by brothers George and Ernest, it produces around 85,000 barrels a year. Fortunately, the beer lasted much longer than their partnership (that was dissolved after just two years!), and 'Adnams' then went from strength to strength. George, meanwhile, became a volunteer, and headed for Africa where he met an untimely end – put it this way, there's unlikely to EVER be an Adnams label called 'crocodile lunch' 😲
In later years, Adnams turned its brewing expertise from Beers & Ales to Gin, Whisky and Vodka. Being Gin lovers (and happy to experiment!) Janet had thoughtfully booked us on an official Distillery tour where we learned more about that side of the business.
We had originally booked the visit pre-Covid and Adnam's had been good enough to honour the tickets – and at the old price too! (it's now £5 per person more!). The Tour lasted about 90 minutes beginning with a short introductory two-minute video and then outside for a thorough explanation of the different buildings and their functions.
Mandy was our Guide and 'enthusiastic' didn't begin to describe her style! She was just how ALL Tour Guides should be: Engaging, humorous, knowledgeable and entertaining. Our group was quite small with only around 10 of us, and we began by learning a lot about the history of the Adnam's Brand.
Then it was back inside (thankfully, as it was now raining even harder!).
…where we learned about the distilling process.
We also had an opportunity to see behind the scenes where much of the research goes on…

…as well as examples of some older documentation associated with the Brewery. All-in-all, it had been a really interesting tour, but the best was yet to come – the tasting session! 😉
Mandy now turned Bartender and allowed us to sample a VERY wide range of Gins, Vodkas & Whiskies. I have a strong feeling that if it hadn't been for the supplied mixers, we would have all been completely sozzled by the end of the demonstration. Luckily, we were all supplied with a spare jug to deposit any liquids that remained in our glasses before moving on to the next sample! Liver alert!!! We must have sampled 3 vodkas, 6 gins, and 3 whiskeys and we therefore temporarily cancelled our subscription to the Temperance Society. 😁😁
The Tour ended with a free voucher for us to spend at the Adnam's Shop in the town. The only challenge was that it was at the other end of the town – in Victoria Street – and it was now raining even harder!!! (if that were possible!)
The Adnam's Shop & Cafe
And it certainly WAS possible. Belting it down, together with a strong chilly wind to make the unpleasant – even more unpleasant! If we weren't attempting to avoid the rain, the next challenge was avoiding collisions with others with umbrellas. We eventually arrived at the Adnam's shop, very wet and (speaking personally) with the early signs of a teeny-weeny hangover! Time for something to eat (again!). Luckily, the Shop also did snacks. We were lucky in that it was pretty full when we arrived, but a family of five was just leaving – and there were five of us! 👍
1.15pm: We were lucky in getting the table, as not long after we sat down, queues began to form!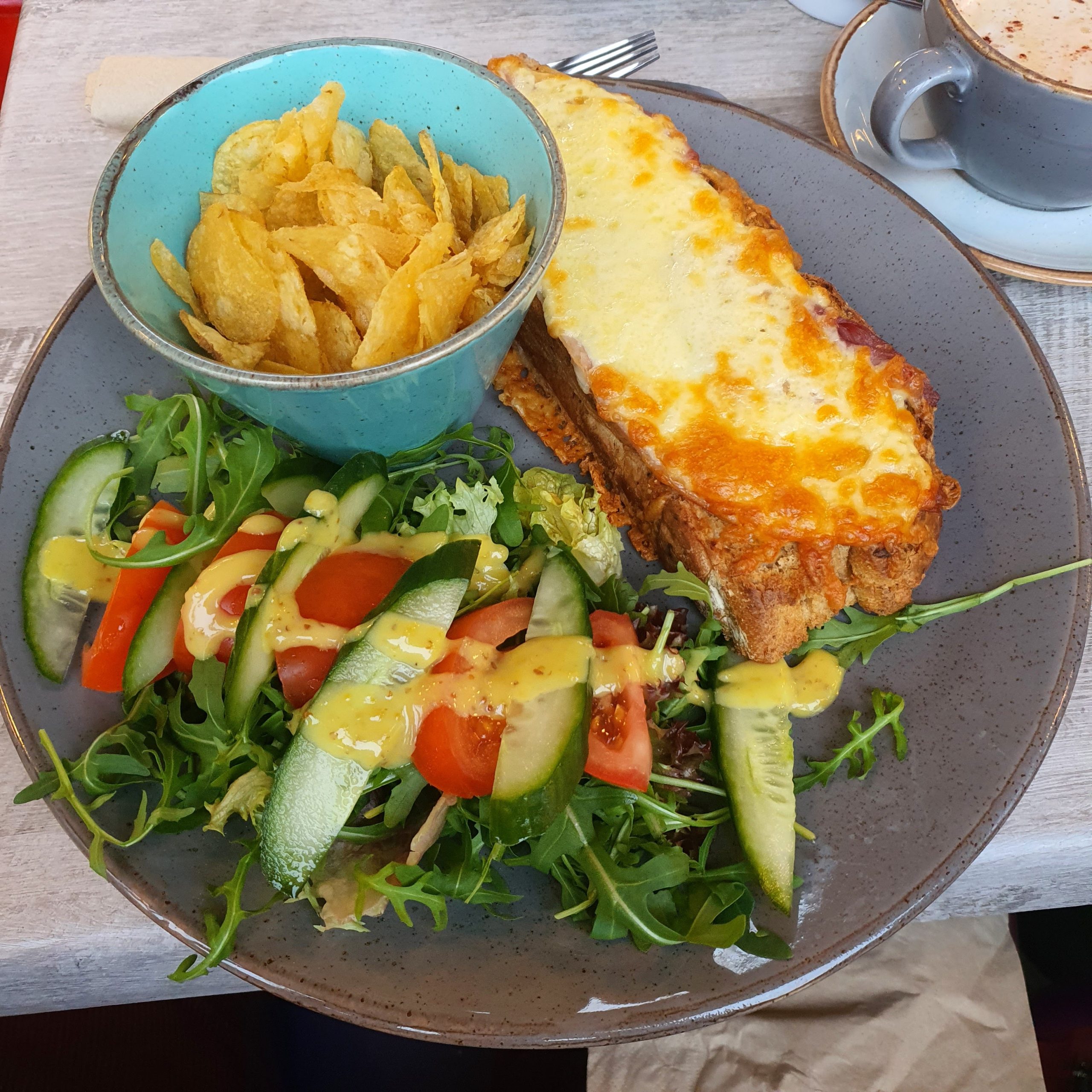 In spite of how busy they were, we placed our order and we were served pretty quickly. Unusually, we all went for the same choice – Ghost Ship Welsh Rarebit (For non-Adnam fans, Ghost Ship is one of their best-selling ales). It was really tasty, but none of us were sure where/how the Ale featured in the recipe! Adnam fans: Answers on a postcard, please! 🤔
2.10pm: After a yummy lunch, we had a quick look around the shop. Until today, I hadn't fully appreciated how extensive the range of Adnam's products were – they even have their own-label Champagne these days!
Time to say goodbye to soggy Southwold. We'd had a great time, but again, the weather had dominated the day. Southwold, like so many other towns, would have looked so much more attractive with a smidge of sunshine! 🙁
Home and (mostly) Dry!
3.15pm: The journey back to Alde Lodge (with Janet once again on driving duties) seemed so much quicker, even though the route was identical and so was the weather. By the time we got in, it was still raining outside and we were all glad to be back in the warm.
4.30pm: Whilst I blogged, Jo and Carol Jenga-ed, Janet and Ann began to prepare the vegetables for tonight's 'New Year's Eve Meal'.
It looked like the slow-cooker had earned its keep with the beef benefitting from its seven-hour steam!
5.05pm: Quiz Time – and my annual challenge found its next audience! Lucky audience!!! 😉😀. Ann & Carol came 2nd with 50 points, whilst Jo and Janet pipped them to victory with 60!
New Year's Eve Meal
6.15pm: A very relaxed New Year's Eve meal followed! Roast Beef that was melt-in-the-mouth with all the trimmings!
7.35pm: Well, that went down a treat! Next job? Clear up and load the dishwasher. We decided to pause Dessert for a while (Ann's homemade Fruit Crumble) whilst we flicked across the TV channels to kill some time before the countdown to midnight!
The Countdown to 2023
11.59pm: Happy New Year everyone! 👍👍
12.22am: Tomorrow, it's Sutton Hoo (eventually!) 😉😁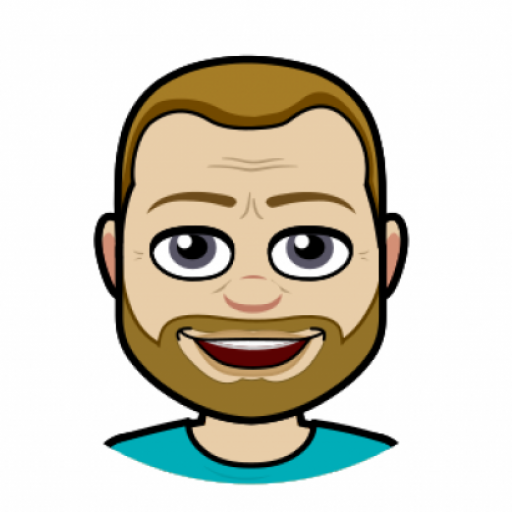 I got into blogging quite late in life, not publishing my first post until 2004 – well into my 40s!  My lifelong love of technology and communication (in all its forms), together with a fondness for the art of writing seemed to be the perfect combination to contribute a few words to the online community. But I'm no Samuel Pepys! If you're looking for deep and meaningful comments on a variety of subjects, then you've arrived at the wrong site! I only pen for pleasure! On average, my posts appear about twice per month, covering family & friends, cinema visits, eating out, holiday experiences and techy stuff. Oh, and as this is my hobby, there are no sponsored links nor adverts here – it's all done with love!
I hope you find it enjoyable, interesting and occasionally, even helpful!