Reading time:
5
minutes...
Greetings reader! It's day 8, and we're on leg 3, halfway through our holiday here in the south-west of England. Today, it's our final full day in Truro, as tomorrow, we're onto leg 4, an AirBnB in Ashton, Helston.
We slept well in spite of the resident next door setting the volume on his radio to max from early evening until well past 11pm. Thanks neighbour! I think the local custom of 'putting a bat up his nightdress' might be in order!
Oh, and we've got no hot water this morning!
Unlike yesterday, it looks like we have a dry day ahead! OK, at a maximum of just 18℃, it's hardly a heatwave, but I think our surviving brolly can breathe a sigh of relief – at least for today!!!
We're 'car-free' today, taking the train to Falmouth Town station (£4.90 for the young one and £3.20 for this oldie, return!).
Falmouth (population c22000) is a town I don't remember much about, and I'm looking forward to seeing it again. Continuing our car-free theme, we're even walking to the local railway station here in Truro (25 minutes). The weather forecast for Falmouth might have been good, but the walk to the station included a brief heavy downpour, that we weren't expecting!
The rain eventually stopped, and we slowly steam-dried during the rest of our walk.
9.37am: We're here at Truro station. It's a twenty-minute (ish) direct route to Falmouth Town, but being a Sunday, the train service is hourly, and we're going to need to schedule our day around the train times as well as the Ferry to St Mawes.
9.46am: The four-carriage 9.46 was on time, and maybe surprisingly, it became close-to-full along the route. By the time it arrived at Falmouth Town, there wasn't many free seats – obviously, Falmouth is a popular destination!
Falmouth
10.18am: Hello Falmouth! I don't recall much of the town from our visit 30+ years ago, so today was a great opportunity to stimulate those 'little grey cells'. It was certainly buzzing – and a great example of another town that didn't get the memo about the 'death of the high street'.
Pendennis Castle
Our first stop of the day, was Pendennis Castle (looked after by English Heritage). It's a 'stimulating' (ahem!) walk from the station to the top of the hill (a good 25 minutes) and signage for getting to the Castle isn't that clear. From our experience, just follow the slope (upwards!) and any signs pointing to the Castle's 'disabled access'.
Built by Henry VIII in 1539 against a possible invasion by the French and Spanish, technically, it's a Tudor Coastal Artillery Fort. It was also pivotal during WWII to defending the Estuary (where there are still gun emplacements in situ today).
Great views looking DOWN the hill though! There's clearly money in these parts looking at the properties.
Before arriving at the Castle, we passed through the drawbridge-like entrance (without a drawbridge!), now guarded by an English Heritage volunteer. Anyone climbing the hill would have been easy-pickings, if they hadn't keeled-over with exhaustion beforehand!
In truth, there's not that much to see on the inside, but you do get some advantageous (and beautiful) views across the estuary (34 metres top to bottom, one of the deepest in the world). Location, location, location ehh?!
…and views of the Castle itself from close quarters made for a very imposing defence…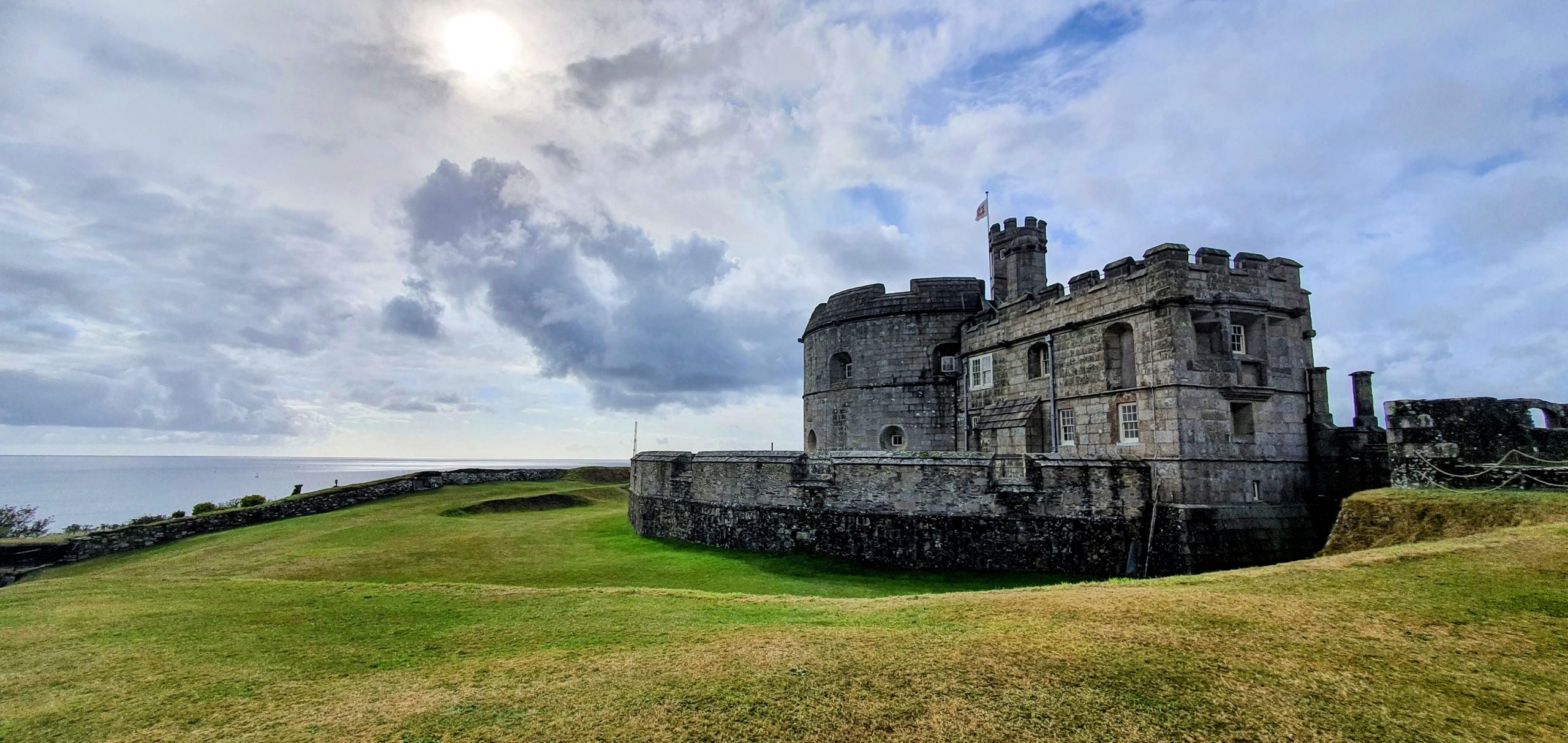 10.55am: We said goodbye to the Castle safe in the knowledge that descending to the Harbour was going to be far easier than ascending!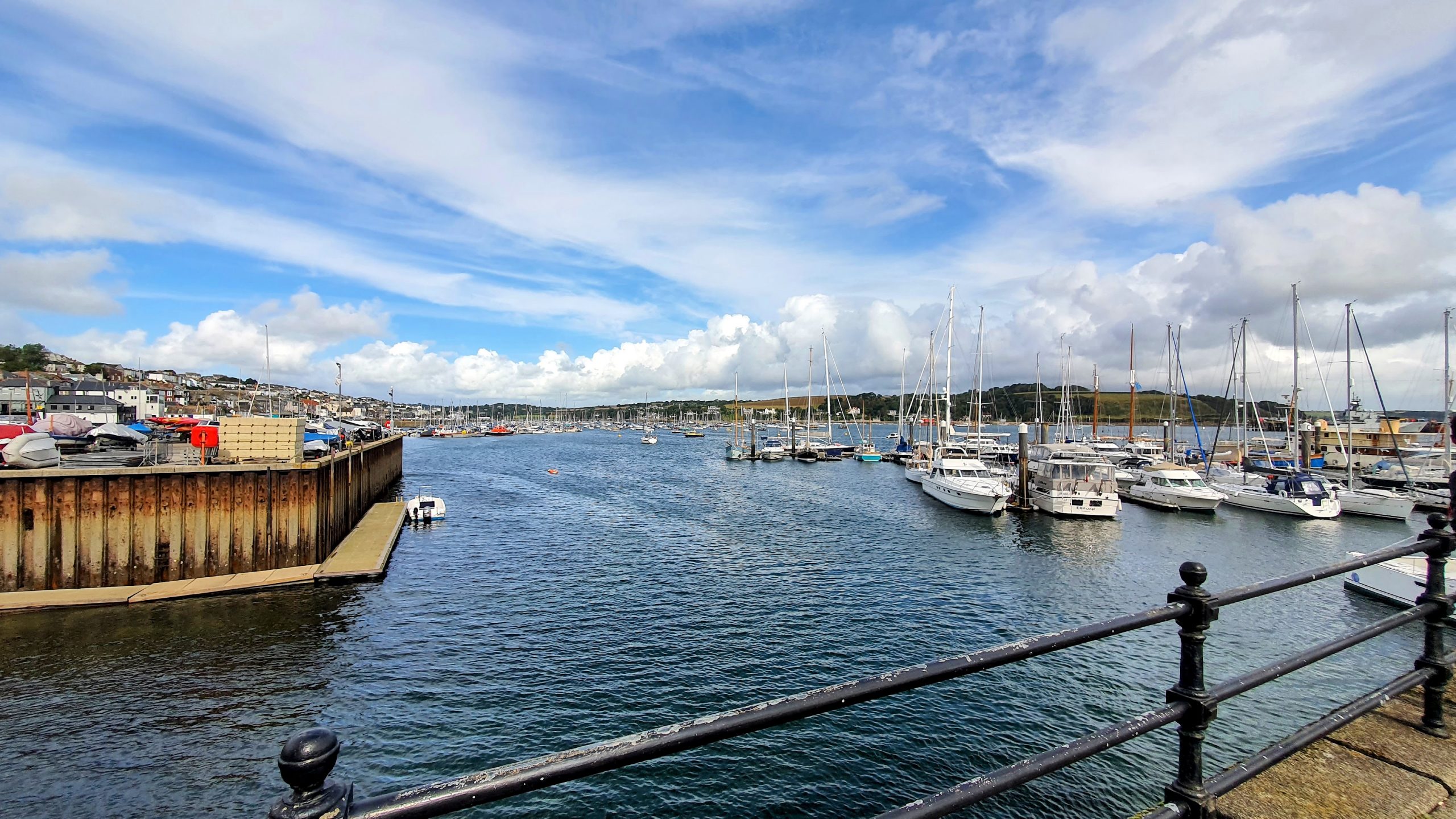 11.11am: As we arrived back at the Harbour, a quick recalculation of ferry times (to St Mawes) and the return train times, meant we decided to drop our planned visit to the nearby National Maritime Museum – it would have to wait until our next visit!
The weather was brightening up, so we looked for the nearest Ferry to take us to St Mawes.
11.20am: We didn't have to look far as there was a ticket booth pretty much right in front of us at Custom House Quay. Departures were every hour at '45' and it cost £10 per person, return.
11.45am: Our Ferry departed bang on time. It was a popular trip, with most seats taken. Entertainment was provided by a traveller's dog not enjoying the trip at all and trying to make numerous attempts to leap overboard – stressing out the owners and their companions! They took it in turns to cuddle the pooch, but Fido had obviously read-up on the social-distancing requirements and was having none of it! Eventually, peace was restored with a generous and continuous scratch behind the ears.
Again with Sunday travel timings in mind, we chose not to walk to St Mawes Castle – but I did get a snap of it as we got closer to the Harbour. A closer look next time!
Built between 1539 and 1545, it protected the other side of the Estuary in close partnership with Pendennis Castle. A 1905 review of Falmouth's defences, concluded that the naval guns at St Mawes had become superfluous. The Castle was therefore disarmed and opened to visitors, only to be brought back into service at the outbreak of WWII!
St Mawes
12.07pm: The Ferry journey was pretty smooth. The weather went from pleasantly warm to a bit blowy to gale-force winds then rain and back again – all inside half an hour. What fun! Me in my short-sleeved shirt must have looked like a typical tourist, whilst the locals were well-prepared, breaking out all sorts of Helly Hansen stormwear, whilst looking naturally smug!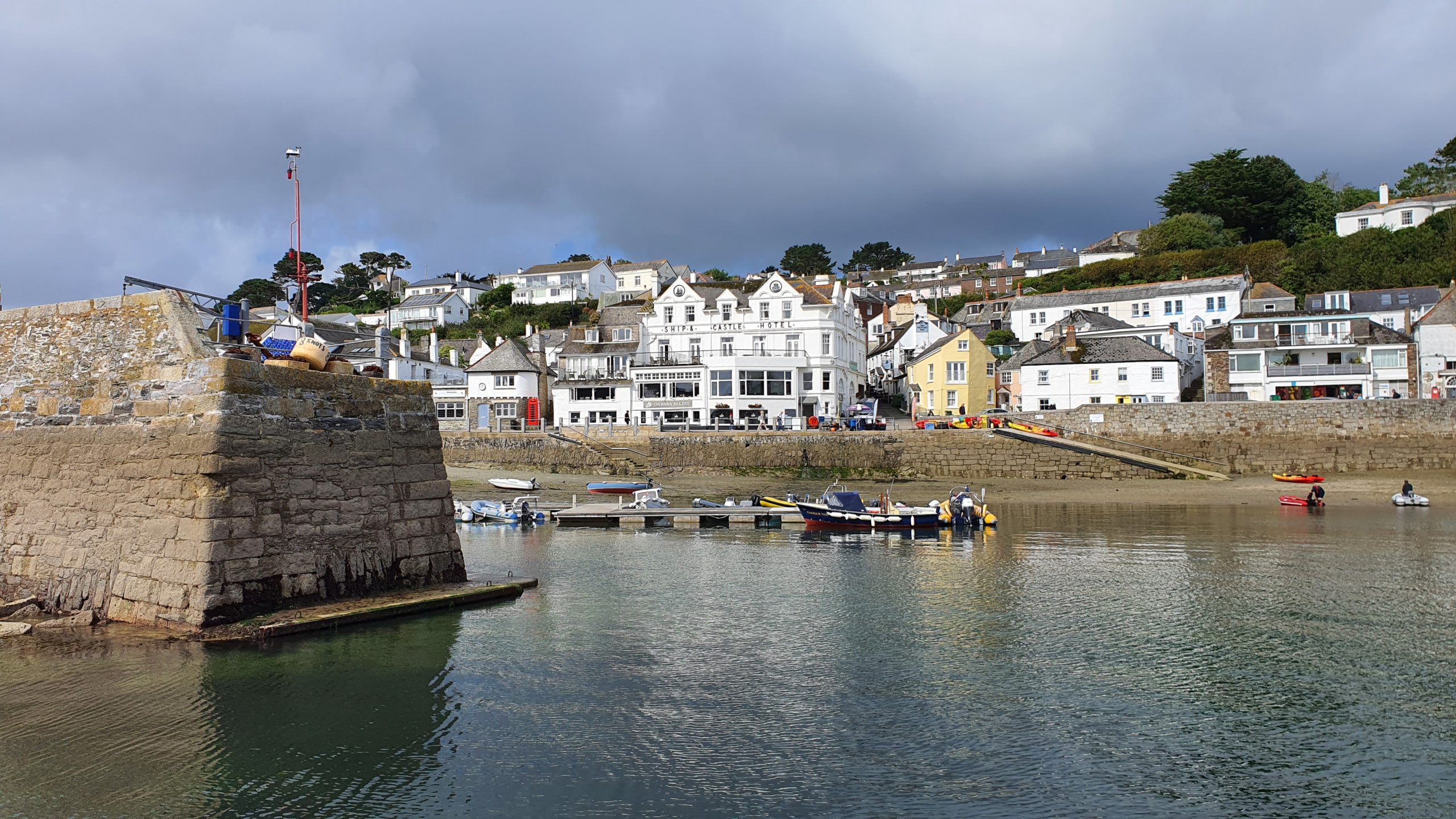 We arrived in St Mawes to strange weather! (that sky did look a tad 'stormy').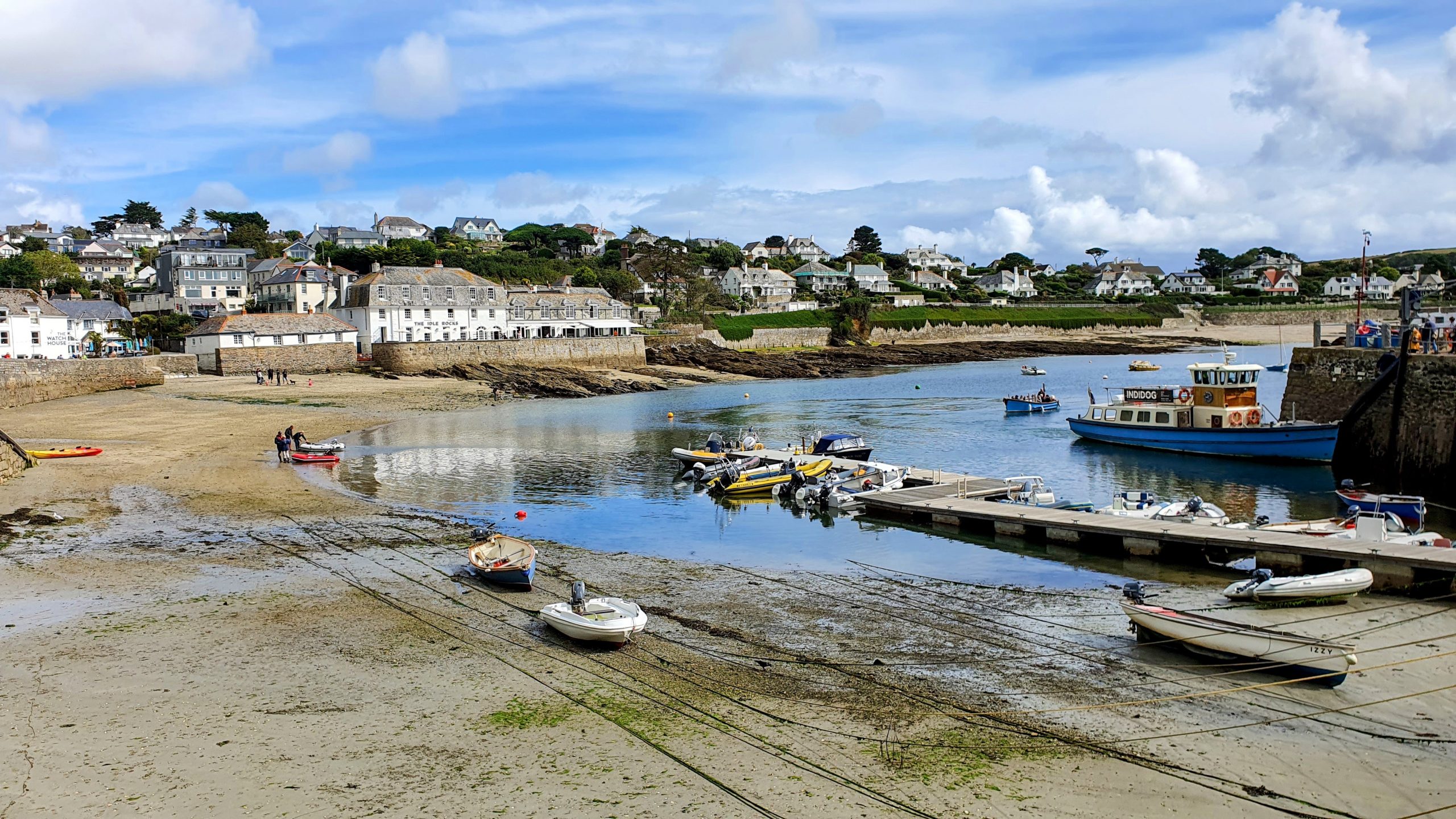 Then it all switched to a very nice warm(ish) day. It was another Harbour that had a knack of attracting tourists, but here, like Mevagissy yesterday (but NOT like Padstow on Day 5), it was pleasantly busy, rather than manic!
The weather continued to improve, and we both thought that for a future break, this might be a good place to stay. We might need to win the Lottery first, though if the house prices in a nearby Estate Agent were a guide!
After a short walk around the Harbour, we stopped for a coffee at The Rising Sun. If we'd had more time, we might have eaten there – the menu looked good and the dining area outside, offered some great views across the Harbour…
Just time for a couple of panoramic shots of St Mawes before we jumped on the returning Ferry.
1.15pm: With the restriction of Sunday timetables in mind, we had a choice of either waiting until 1.45pm for the next Ferry that would take us back to our original departure point – Custom Quay – or we could take a different Ferry. The alternative Ferry, earlier at 1.15 would return us to a different part of Falmouth at The Prince of Wales Pier. We calculated that providing it was on time, didn't sink on the return journey, or get attacked by 'poirates' (Arrrrrrrrr!), after a (very) brisk walk back to the Station, we'd be in time for the 1.45pm back to Truro.
On the return journey, unlike our outgoing trip, for entertainment, there were no dogs on board trying to 'jump ship'. Instead, we watch some rather determined-looking dogs (of the 'salty old sea' breed) racing their yachts! They didn't seem to care much that there was a Ferry in their way, as they tacked left, right and centre across the waves! Exciting stuff!
1.05pm: It was a swift return journey and we soon landed at the Pier – on time too!
We hurtled past the shops in Falmouth (us? Hurtle past shops? Surely some mistake!!!) heading for the Station. Our lasting impression of the shopping area was how busy it was – and that's all the excuse we need for a couple of shopaholics like us to return at some point in the future.
1.29pm: We made it (with about 10 minutes to spare). Again, the station was busy, but this time the train only had TWO carriages – it was a snug journey back to the Truro Station!
We're quite pleased with ourselves having walked almost seven miles today! St Mawes was outstanding and we do love castles! The only downside? The Sunday transport timetables restricted us a bit.
2.55pm: All that's left to do, is get ourselves packed, ready for tomorrow.
PS: There's 5G in Truro!
Tomorrow…
Leaving Truro after breakfast, it's 'Leg 4' for 4 nights at an AirBnB called The Piggery in Ashton, Helston. See you there!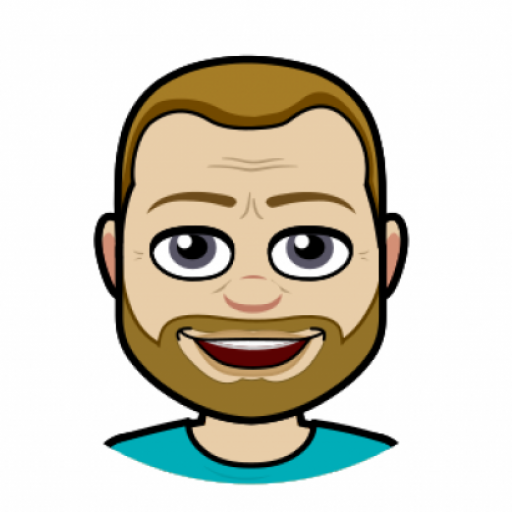 I got into blogging quite late in life, not publishing my first post until 2004 – well into my 40s!  My lifelong love of technology and communication (in all its forms), together with a fondness for the art of writing seemed to be the perfect combination to contribute a few words to the online community. But I'm no Samuel Pepys! If you're looking for deep and meaningful comments on a variety of subjects, then you've arrived at the wrong site! I only pen for pleasure! On average, my posts appear about twice per month, covering family & friends, cinema visits, eating out, holiday experiences and techy stuff. Oh, and as this is my hobby, there are no sponsored links nor adverts here – it's all done with love!
I hope you find it enjoyable, interesting and occasionally, even helpful!