Reading time:
4
minutes...
Our Croatian story so far…
MONDAY
Morning Reader! We slept well. The temporary problem of the AC Unit leaking on the carpet is solved!
It was another superb breakfast in the Hotel's Restaurant that's 'punching well above its weight' for variety and service.
On our travels today, it's back to the centre of Dubrovnik to experience their famous Cable-car and have a closer look at the older part of the Town. Hopefully, the Bus into the City won't be quite as busy as it was yesterday!
Factoid time: The cable-car was first opened to the public in 1969. Doors opens at 9am, it takes credit cards and local currency, but NOT foreign currency – it's just kr150kr (around £18 each) to get on board. The journey lasts 4 minutes and soars 778 metres. Surprisingly, it must be one the few places that offers free wi-fi (which is quite something in Dubrovnik, as even the restaurants out here don't offer this tech, free or paid, as standard).
There's a website that explains a lot more about the history of the Cable-car HERE – It's been here since 1969, so there's quite a story.
After yesterday's newly discovered shortcut to the Bus-stop serving the Old Town (the No. 6 Bus), we were there in double-quick time. The queue was shorter, the weather cooler, and the bus was less full than yesterday – so this was a great start to our day! Our armpits were smiling!
09.30: We took the gentle 15-minute walk to the Cable-car. On arrival, there was quite a queue, but it moved along pretty quickly and we were soon being herded into our transport for the journey skywards. Memories of yesterday's sardine-bus experience came flooding back as the Car was full to capacity. There may free wi-fi on board, but there's no way you'd have enough room to get the phone out of your pocket to switch it on… Our other passengers were clearly on an APT tour, all decorated with name badges in case dementia had set in and Lloyd, Bud, John etc couldn't remember who the hell they were. Care in the community on tour…

There were only a few seats on the Car (it's clearly designed for most people to stand) and these were bagged pretty quickly. The rest of us simply held our cameras above our heads for the short journey and randomly fired off shots, as there was no way we could get near enough to the window to frame the perfect pic!
Actually, I don't know why I bothered to try and shoot from the Cable-car! The observation area at the top was very accommodating and allowed the gazillion people, including all APT tour members in Europe, already up there to all take photos and not get in each others' way!
All-in-all, for me, it was (just) an OK experience. Going up, the Car was over-full, the view from inside was restricted, and it wasn't particularly comfortable standing all the way there. But, I guess on the positive side, how else would you get to the top for such spectacular views*??
*Actually, there IS an alternative – I noticed later on a town map that there's about 10 gazillion steps that lead direct to the top, so I take it all back: the Cable-car IS the best way to get to see views of the City!
---
10.35: An hour later, and back on the ground, we took the short walk back into the Old Town. We rushed it a bit yesterday, so today was an opportunity to take it at a much slower pace. I'm glad we did, because later, we were to discover somewhere really beautiful…
"But before beauty, comes Beer!"
(Oscar Wilde**)
After an aborted mission to Dubrovnik's Maritime Museum (it's closed on Mondays!) that took us back into the heart of the Old Town, we discovered a sizeable Bar/Restaurant WITHOUT the sizeable bill – Restaurant Amoret. A bit surprising considering it was next to Dubrovnik Cathedral. A large beer, a lemonade for Ann and two coffees only came to kn124 (£15 quid ish) – and that compares favourably with yesterday's bill-shock of a similar diet for £26!! 😁
**Oscar Wilde, Inn Keeper, The Dog & Dub, Croatia*
Suitably re-fuelled, we continued our snail-paced wanderings…
*Not true

…and just as we were about to pass the entrance to the City's Walls, and call it a day, we discovered this doorway…


11.30: A little under-stated and very easy to miss: The Cloisters and Old Pharmacy aka The Franciscan Church & Monastery was a hidden gem – and what a beautiful treasure it was!!! Inside we discovered it had been a Monastery, a Church (obviously!), a Library and a Pharmacy (more about that later).

The Cloisters area had been superbly renovated – a real contrast compared to the cacophony of sounds and activity from the Old Town outside. A magical find and well worth a look!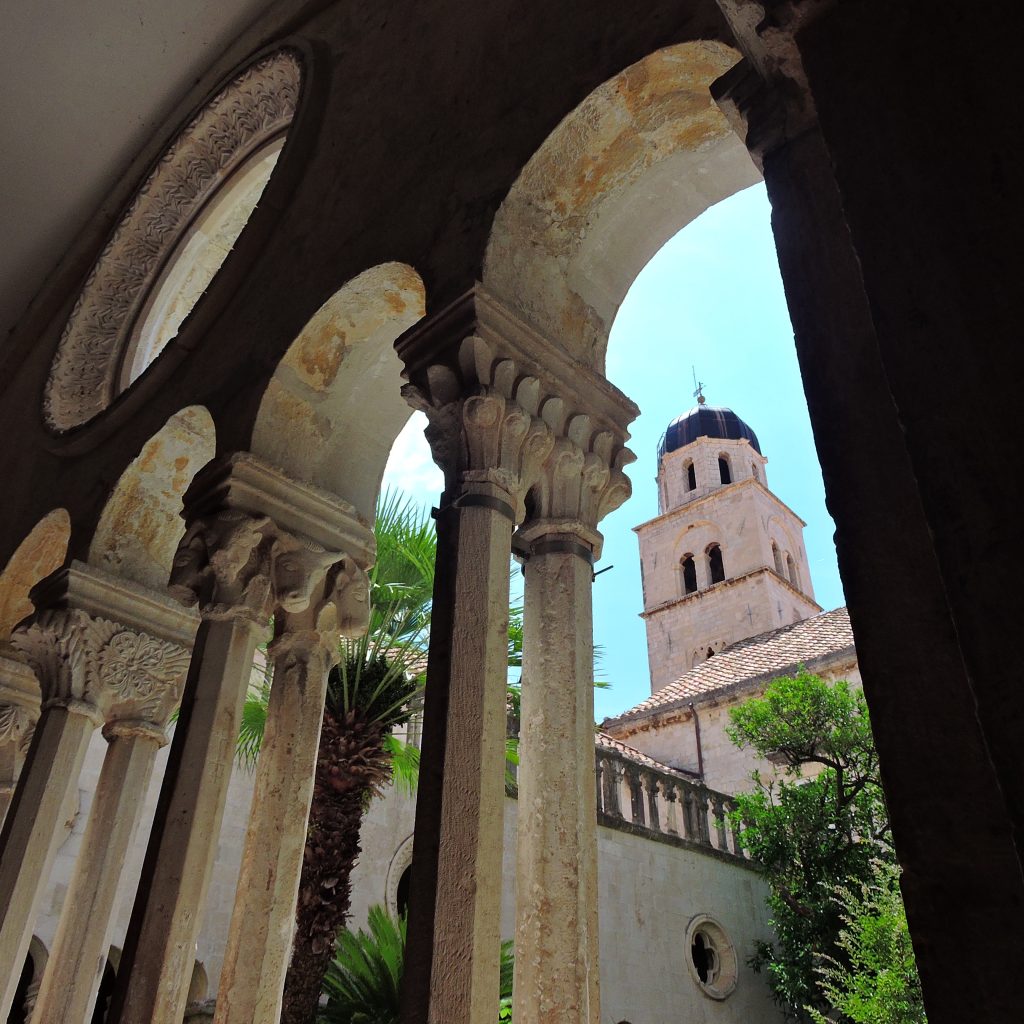 The Pharmacy dates back to the 1300s and it's still operating!! Apparently its the third oldest in the World, and makes Boots look very hi-tech.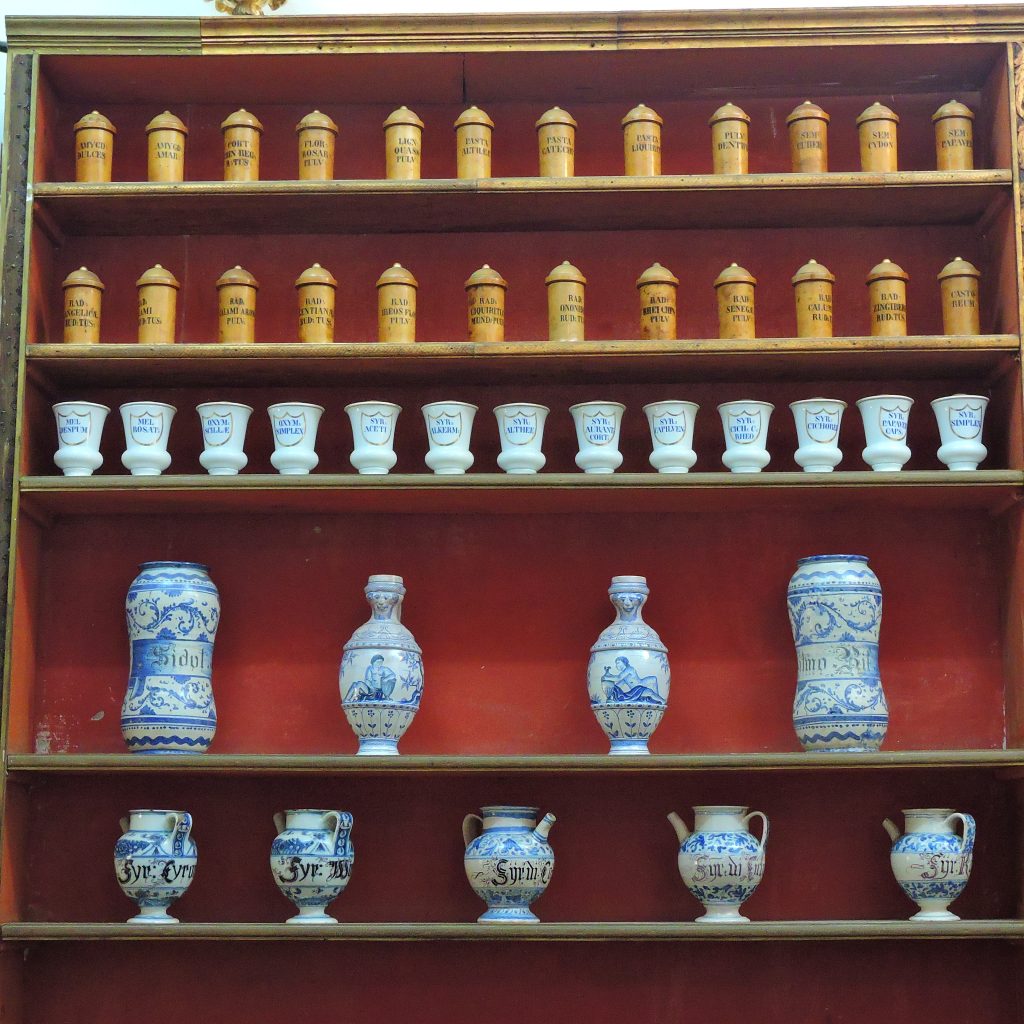 Wow! What a find! Glad we slowed down a bit!
Returning outside, the temperature had now risen, although still a bit cooler than yesterday, it was easily the mid-20s and getting very humid as midday came and went!
12 noon: It was now starting to feel a bit uncomfortable in the armpit department, so we headed for the Town Square where the clock reminded that it WAS the hottest part of the day. We waited for the trusty 'No. 6', and after deliberately letting the first one go because of the sheer number of people on board (shades of yesterday's sweat-box), just like everywhere else in the world, another came along shortly afterwards.
We arrived back at base for a quick recharge of batteries (for the camera, the phones and us humans) before heading for the Hotel's gardens and some more sun-worshipping.☀
5.00pm: We'd had enough sun for today and got ready for our jaunt into unchartered territories! Those territories were near the bus-stop to get to town, but instead there's a cross-roads to the right that according to our bus-expert Brits from yesterday, leads to 'loads of restaurants and a nice beach'.
Well, they were certainly accurate in their description of the Restaurants (there were dozens!) – we lost count! Spoilt for choice, we walked-on all the way to the last one…
…and we weren't disappointed!
8.30pm: Welcome to Casa Restaurant (Part of the Villa Wolff Hotel)


Shrimp Salad

Boar Ragu
…and a view to die for…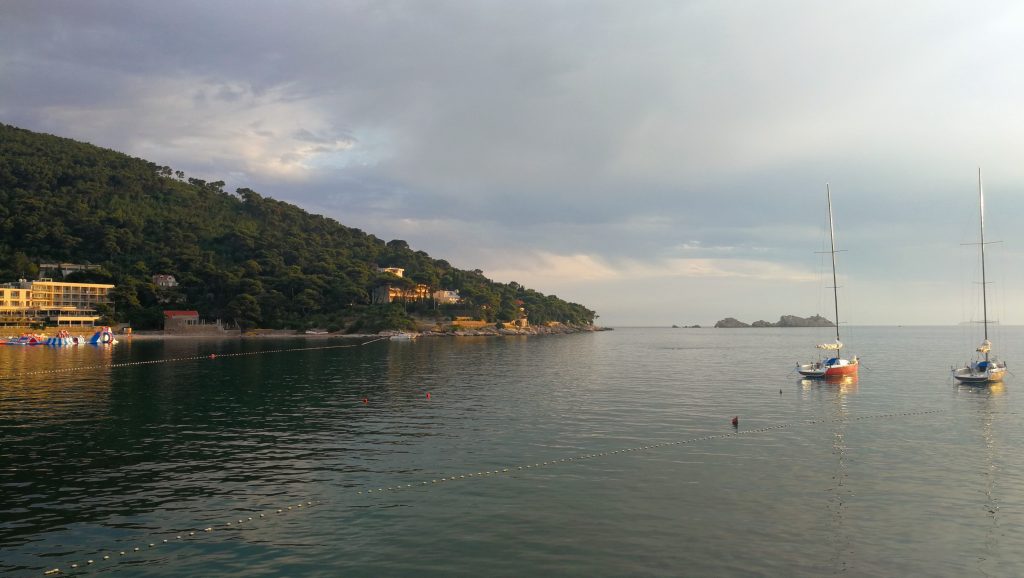 …with a Cat for company! 👍
The Service was excellent. Even when a short shower of rain threatened, our Waiter had it covered and set up a table in the dry for us! Top marks!
Good value too! Two Starters, Two Mains, one Guinness and one Elderflower Spritz (no room for Dessert as the portions are massive!) kn639 (around £75).…and we weren't disappointed!
That's been our best restaurant experience since we got here – I think we'll be going back later in the week!
10.00pm: That's it for today! Nighty-night!
Tomorrow, it's back to Dubrovnik's Maritime Museum and a few other attractions included on our Tourist Card.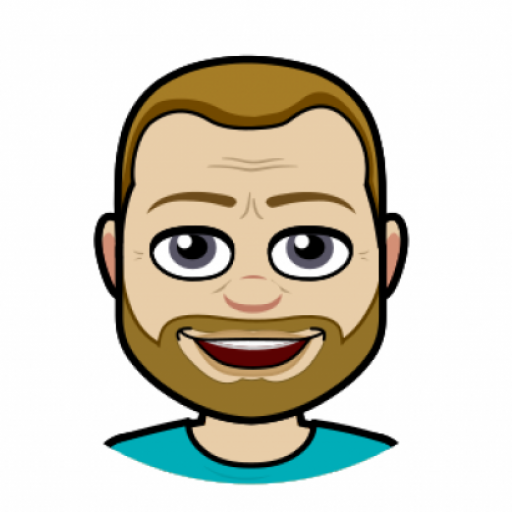 I got into blogging quite late in life, not publishing my first post until 2004 – well into my 40s!  My lifelong love of technology and communication (in all its forms), together with a fondness for the art of writing seemed to be the perfect combination to contribute a few words to the online community. But I'm no Samuel Pepys! If you're looking for deep and meaningful comments on a variety of subjects, then you've arrived at the wrong site! I only pen for pleasure! On average, my posts appear about twice per month, covering family & friends, cinema visits, eating out, holiday experiences and techy stuff. Oh, and as this is my hobby, there are no sponsored links nor adverts here – it's all done with love!
I hope you find it enjoyable, interesting and occasionally, even helpful!