Reading time:
5
minutes...
Day 8 – Thursday, 26th May
Welcome back loyal Reader! It's Day 8 of our 2022 trip to Scotland where we're currently lodging in Gartocharn, a small village (pop. 680), close to Loch Lomond.
'The Old Dairy' at Cambusmoon Farm has been our base for the past few days and we've just a few more left here before we leave on Saturday for our final leg in Melrose.
You might have missed… (Click here)
Today, we're continuing to explore the area on foot and by car (although 'on foot' is becoming increasingly hazardous as the Scottish rain tends to arrive unannounced and then pebble-dashes its victims!). 😕😕
Today, we're travelling by car to the affluent coastal town of Helensburgh (pop. 13230). Again, the weather is all over the place and so, first of all, we're heading for National Trust for Scotland's – 'the Hill House'. just outside the town. Its exterior 'look' is a bit special… for all the WRONG reasons!! More about that later. 😕
Why? Unfortunately, nobody told the Scottish weather about the significance of this building, and over the years, this architectural masterpiece is slowly falling apart – from the outside in! (mostly down to the rain soaking into the concrete walls!!). So much so, if action hadn't been taken in recent years, it would have become a ruin and closed to the public – permanently! 😲
The Hill House
10.22am: We've arrived, and right on cue, it chucked it down! Big lumpy Scottish rain that would have injured small animals and children!! 😕. So, whilst we wait for them to clear up the bodies, maybe a little background information to begin with…
The House was designed by famous Architect, Charles Rennie Mackintosh and considered to be his best work. He was commissioned by the publisher Walter Blackie owner of the Publishers Blackie and Son in 1902–1904 to build something that was, for the time, state of the art. The 'new wonder material' was concrete and the majority of the construction relied on this. In addition to the House itself, Mackintosh (together with Mrs M) also designed much of the interior where they demonstrated an extraordinary attention to detail in doing so (I like them already!) – including stating the colour of the flowers that should be placed on the tables to match the décor. OK, maybe that IS a bit OTT!? 😖
The building is very plain and rectangular on the outside and has a somewhat Art-Deco feel inside. If you like squares and rectangles, it won't disappoint. – The plainness of the exterior, complementing the straight-lines (and lack of curves) of the interior, is deliberate and one of the Mackintosh family's design traits.
Since June 2019, the whole exterior of the House has been protected by a controversial 'box' to protect it from the elements! I bet there were a few heart attacks nearby when the scaffolding lorries first arrived! 😲
Yep, that 'enclosed look' certainly courts controversy. I bet the (very) nearby locals have an opinion! 😲
Yes, it all felt very geometric but where to us it all 'worked' very well. It certainly had plenty of character about it and was unlike any other house we've ever seen.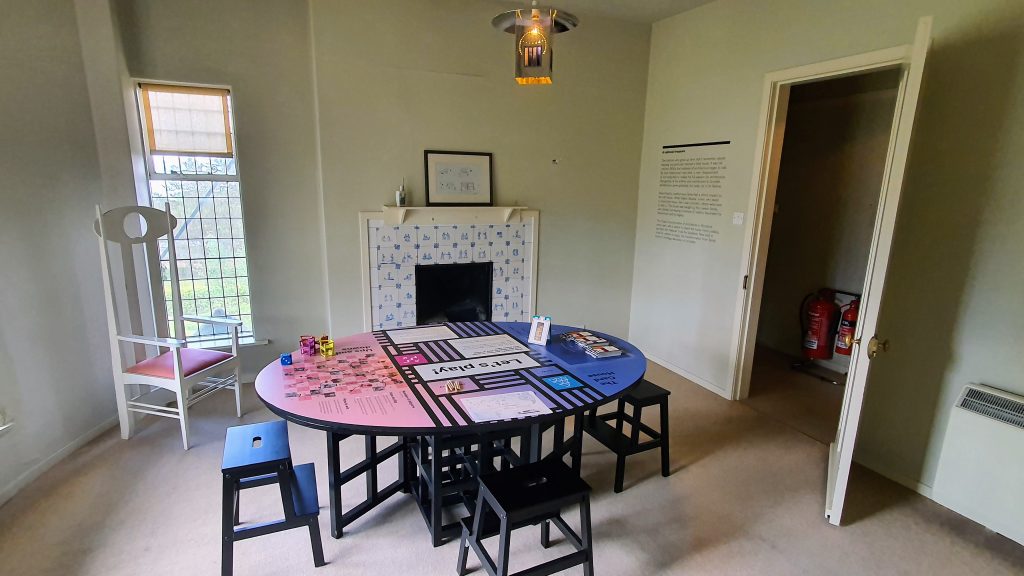 OK, it won't be to everyone's taste, but given that this was all designed over 100 years ago, it had a peculiarly modern feel about it!
Given the majority of straight edges/squares and rectangles driving the design ethos here, this one stood out a mile! As you can see, it's predominantly 'curvy', and if you look really closely, you'll see that it wasn't just a top-down shower enclosure, it had the facility to pump water from top to bottom and through 360 degrees too! 😀. Again, quite a thing for the early 1900s! 👍👍
Time then, to address yet another 'Elephant in the Room' for this holiday – the exterior protective 'box'. On paper, it must have looked hideous, but do you know what? In the flesh, it worked really well. I can't think of (m)any other buildings that have adopted this approach for preservation purposes; where the result gave visitors such unrivalled views – literally – of the exterior. Being able to see, close-up, the roof tiles, the chimney constructions plus the damage caused by water ingress to the concrete exterior walls brought a further uniqueness to this building.
Interestingly (or not) the National Trust for Scotland had polled previous visitors as to how best preserve the House, and the vast majority had voted in favour of the current protective box.
Whilst we'd been inside, it had stopped raining. As we left, it started pouring down. I beginning to think it's not just concrete that's deteriorating because of the dampness in these parts!!! ☔☔☔☔☔
11.45:am Next stop? Helensburgh.
The Town of Helensburgh
Helensburgh is located 25 miles north-west of Glasgow and sits at the intersection of the Firth of Clyde, East Clyde and the Gareloch. Over the years, the population has grown significantly and is described as affluent! From the size of the properties, it certainly looked it! 'Large' doesn't begin to describe some of them! It's also one of the few towns that I know of that has not one, not two, but THREE railway stations. For the size of the town, that's just showing-off, given that it has about half the population of Chichester and fewer residents than Truro or Ripon. Recently, house prices here were described as the 'second highest in Scotland'. Am I missing something? 🤔
Actually, for such an affluent area, the shops looked a bit 'tired'. OK, some of the big names were there such as Boots, WH Smiths and Ladbrokes, but I think I was expecting more of a Gucci-type landscape of retailers. It took us a while to find a parking space (in James Street, but be careful! just an hour free and no return for two, otherwise a £100 fine!) as there didn't seem to be any sign of a public car-park. Maybe the residents just send Jeeves down to town in the Bentley to pick up the essentials!!?? 🤔
La Barca for Lunch!
11.55am: After a 60mph windswept 'wander' along Helensburgh's Esplanade, we decided on an early lunch. We'd seen La Barca advertised back in our accommodation at the Farm – and the menu had looked pretty varied and good value. Located opposite the Esplanade, it was quiet when we arrived but soon began to fill up. Being a Spanish Tapas restaurant, it was surely a good sign when we noticed that most people being seated were Spanish!! There was also quite a few awards on show proudly displaying their 'winning' credentials for their food offerings.
Left to right and clockwise: Estofado de Ternera (Beef & Potato Casserole); Pescado Frite (White Fish in a Light Batter); Croquetas de Pollo y Jamon (Chicken & Serrano Ham Croquettes) and Charcuterie Selection for Two. Unsurprisingly, it all went down a treat! – and including drinks, we had change from £35!!😋😋
12.45pm: A rare shot today, of the sun actually shining (for longer than 30 seconds) on a gorgeous blue Firth of Clyde. This was just before the downpour that tested our new 'indestructible' umbrella (especially chosen for the holiday) that showed that it clearly WASN'T! 🌂🌂 😠
1.52pm: Back in the room writing this Post. It's been a good day, but the weather is seriously impacting on our plans at the moment. Yes, I know it rains in Scotland, but it's the short-notice and severity of it all! Yuk!! 🤬🤬
Tomorrow, I have a list of jobs…
Start to build the ark
Repair the umbrella!
When that's done, we're heading off to Glasgow and the Riverside Museum. Our umbrella breathes a sigh of relief!!! 👍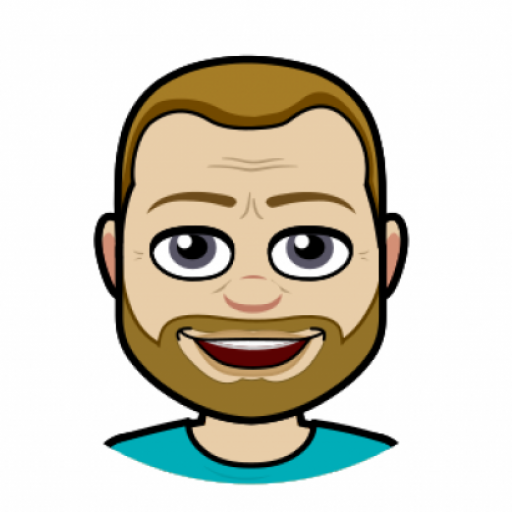 I got into blogging quite late in life, not publishing my first post until 2004 – well into my 40s!  My lifelong love of technology and communication (in all its forms), together with a fondness for the art of writing seemed to be the perfect combination to contribute a few words to the online community. But I'm no Samuel Pepys! If you're looking for deep and meaningful comments on a variety of subjects, then you've arrived at the wrong site! I only pen for pleasure! On average, my posts appear about twice per month, covering family & friends, cinema visits, eating out, holiday experiences and techy stuff. Oh, and as this is my hobby, there are no sponsored links nor adverts here – it's all done with love!
I hope you find it enjoyable, interesting and occasionally, even helpful!