Reading time:
7
minutes...
Sea Days x6:
Friday, 28th April – Wednesday, 3rd May
Hello you! It's been a while hasn't it? 😉. 'Days at Sea' are inevitably, part of the whole 'cruise experience' and it's all about making the most of that time away from land.
SIX days IS a long period, and it pays to have some plans about how to best fill the space. I think the most we've ever endured is 4, maybe 5 days before now, and this will be a real test of endurance. Yes, yes, I know: 'Poor Loves!' 😢😢
Paradise Found! (click here)
Well, this is the BIG one! Probably the most varied and lengthy holiday we've ever taken!
As you can guess from the title, this 28-day jaunt near and around the Pacific Ocean involves land, air and yes (a lot of) sea! We originally planned to do this one a few years back, but Covid got in the way! But on a positive note, at least we've had plenty of time to pack!
Our Pacific Paradise began by heading to Heathrow by taxi, then taking the Virgin flight to San Francisco – we spent three days exploring the city. Next, it was back in the air to take us to Tahiti for two more days. We thenboarded the Oceania Regatta for an 18-night cruise exploring French Polynesia (taking in the islands of Bora Bora, Rangiroa and Nuku Hiva). Next, we sailed north towards the Hawaiian Islands for a few days, spending two days in Honolulu. We're now at sea for six days disembarking in Los Angeles, where tomorrow, we round it all off with two days in Venice Beach. We then fly home to Heathrow, again courtesy of Virgin. Phew! 😁
For a quick summary of our holiday so far,
click on 'Paradise Found' above 👍
The Regatta had a fair few options to keep us entertained and to prevent us from dying of boredom or going mad: Needlepoint, Golf Putting, Bridge, Bean-bag Tossing (Why?), Polynesian Dance, Bingo, Blackjack, Slot machines, Shuffleboard, Trivia quiz, Mensa Daily quiz and 'enrichment presentations' – something for everyone! (apparently!) 😟
But for us, it was a lot simpler! Reading, reading and more reading and Ann continuing to practise her watercolour painting (results coming soon!) – Oh! and maybe catching some rays too!
Our next stop? Los Angeles next Thursday! 👍. Now we just need to get through these sea days – and its only FRIDAY!😟. Sea days are famous for inducing boredom in everyone aboard! If you've cruised, you'll know that feeling. Here we go…
Day 20 (Friday, 28th) – Sea Day I
The clocks went forward an hour overnight. 🧐. Even though we actually like the sea days, anything that makes the six days go quicker, got our vote!
After a lazy breakfast in the Terrace Café, we headed for the 10am presentation about 'The Quirky Life of [Apple's] Steve Jobs' presented by Dr Ainslie Waldron. Then, a bit of reading/a hot dog for lunch/an hour in the Sun/an afternoon siesta/evening meal in Toscana. Yes, another day in Paradise! 😉. Evening entertainment was singer Kenny James – very good indeed! 👍👍. One down, five to go!!
---
Day 21 (Saturday, 29th) – Sea Day II
The clocks went forward ANOTHER hour overnight! 🥴 and looking at how empty it was at 8.45am for breakfast this morning, the cumulative effect is beginning to take its toll – The Grand Dining Room was almost empty!
After breakfast, we headed for today's presentation: 'Quirky Pythagoras' presented by 'regular' Dr Ainslie Waldron. If the clocks changing by one hour wasn't enough, they also brought forward Ainslee's talk by 30 minutes (with just 10 minutes' warning) – and that certainly caught a few of the audience members out! I must admit, I wasn't expecting to have to recall Pythagoras's Theorem during the holiday!!! 🥴
Afterwards, a date with the Launderette (living the dream, us ehh?!?!) 😎. Then, 13 times around the deck… More catch-up reading… an avoidance of lunch..! 🧐 An afternoon siesta…. 'Dial M for Murder' on the TV… Finally, our evening meal in The Grand Dining Room. Another packed day and hard to believe that this time next week, we'll be heading home!
Given the entertainment on-board has been somewhat 'variable', tonight was a pleasant change! Stand-up comedy isn't usually our thing, but John Wing, a Canadian comedian (with quite a few years 'under his belt' on the comedy circuit) did a great job of crossing the cultural divide and keeping the Americans and us, the Brits, in stitches. He discussed 'old age' and really hit the mark! 👍
---
Day 22 (Sunday, 30th) – Sea Day III
And again tonight – another hour of lost sleep – as the clocks gained 60 minutes in the small hours. That's three hours over (just) three days! Ouch!! 😮. Thankfully, after tonight, as far as we know, no more changes!
As has become the norm, after breakfast, we headed for Dr Ainslie Waldron's latest – today, she presented: 'Quirky Nikola Tesla'. With our daily piece of education completed, we spent the rest of the morning on the Loungers – strangely gusty on deck though, and so we abandoned things, just as the clouds were arriving.
On our way back to the Stateroom, we accidentally stumbled across 'Afternoon Tea'! Well, it would have been rude not too, wouldn't it? 😉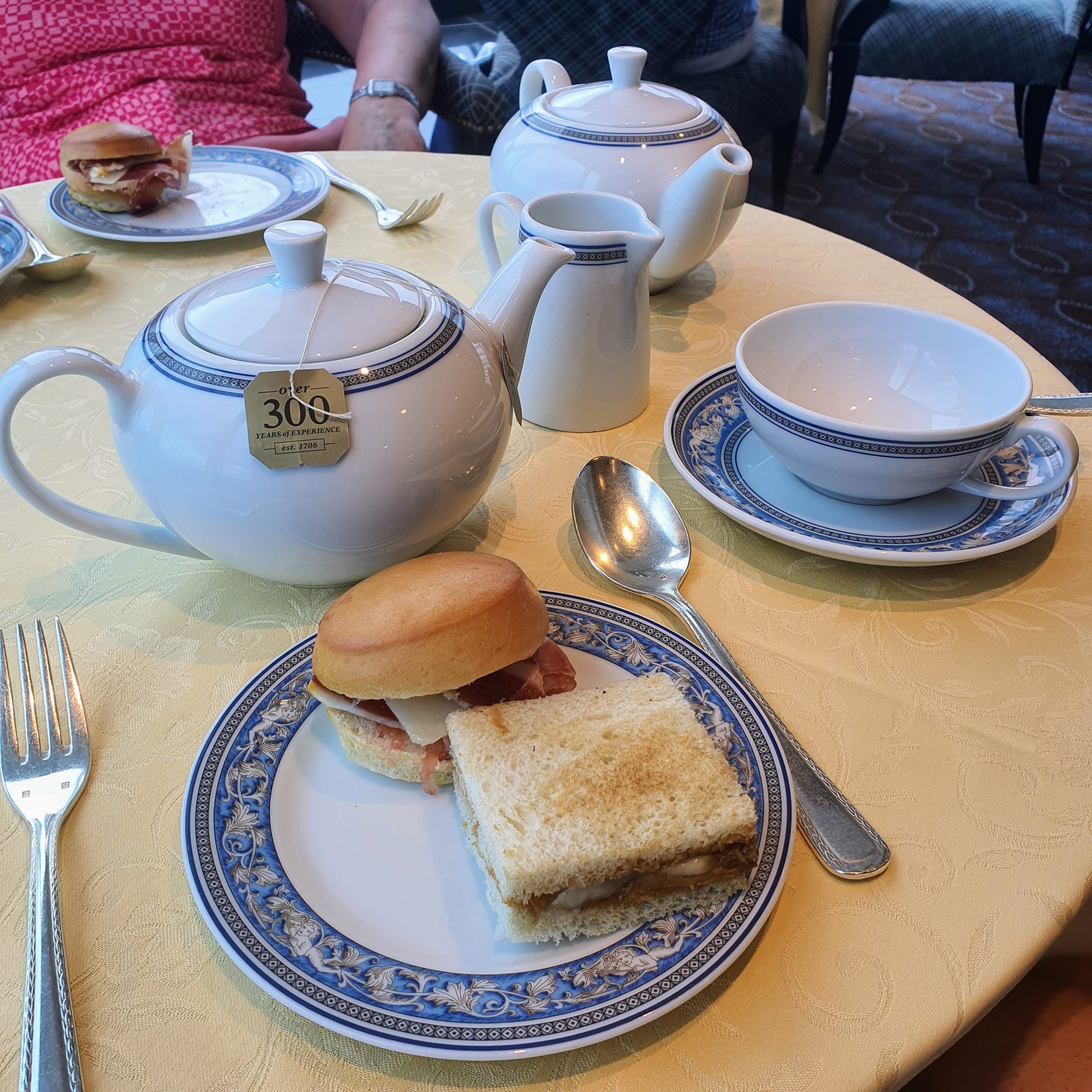 The Show that I think EVERYONE was looking forward to tonight was Kenny James (based simply on his first performance here a couple of nights ago).
And I think word had certainly got around! Apart from the Ship's cat, I think the whole Ship turned up in the Regatta Lounge tonight! 👍👍 – that was a first! 😉
A natural showman with a terrific voice, he didn't disappoint! 👍👍. The combo of his son, Trevor on Bass, together with the Ship's Band, made for quite the 'super-group'. Altogether, quite simply the best entertainment on the Regatta since we boarded!!!👍👍. And it was pretty clear, Trevor got the pulses racing too! Why? Around 6 foot 15 tall and with all his own hair! — AND he was under 90 years old! He was getting a lot of attention (and I think he'll be late to bed tonight!) 😮
---
Day 23 (Monday, 1st) – Sea Day IV
It's a Bank Holiday at home, but hard to tell, here on board – certainly, the Ship's only ATM is working. 😉! We're now over halfway through the sea days – and no sign of madness, although I'm pretty sure no-one can tell us what day of the week it is! Outwardly, all appears normal, but the cracks are beginning to appear. Nothing wrong with us two though! 🥴 (Well, apart from the usual!). At 10am, we went along to Ainslie's latest presentation in her 'quirky' series: today… Today, Albert Einstein.
Meanwhile, outside, the sea was very choppy, and it was so windy, they closed off the main deck! Looks like the ever-popular Needlepoint Class is going to be even busier! 😉. Even the walking deck was roped-off and the Lounger area was pretty much deserted too (apart from a single lone guest in the pool!). Dare I say it? It was COLD!!! In fact, the deck staff were handing out blankets!!! This is not how we imagined the day would go! 😲
Yes, with more than three days at sea and without sight of land, things are getting desperate! With the Needlepoint class and the Polynesian Dance classes now full, we were forced to confront the inevitable… there are only 5 places to drink and 12 locations to get food! How will we… how will anyone get through this? Heck, in order to relieve the boredom, some people have even resorted to using the in-room movie selection (shock horror, it's limited to just 300-or-so movies!). Thankfully, Titanic and The Poseidon Adventure aren't on the playlist!! Our situation onboard remains hopeless, and I'm not sure that we're all going to survive! If anyone sees this message, please send help! (or some more Guinness!) 😉.
We were forced to have Afternoon Tea again! It's tough on board, but a little sacrifice now and then doesn't hurt does it?! 😉. I can feel your sympathy! 😂
After a temporary reprieve from the boredom in the shape of another excellent evening meal, we went along to the Regatta Lounge to see comedian John Wing for his return show. If last night's star, Kenny James had drawn pretty-much EVERYONE on the Regatta, tonight was another real crowd-pleaser with a packed house! Yes, I think even the Ship's Cat was there too! Tonight's subject? 'Marriage is a Four Letter Word' and for the next forty-five minutes all thoughts of 'what the heck are we going to do tomorrow?' disappeared. A great show, and one where crying with laughter was the norm. But even a seasoned professional like John admitted, to relieve the boredom during these sea-days, he'd been reduced to…
…playing Bingo! 🧐.
---
Day 24 (Tuesday, 2nd) – Sea Day V
Day 5 at sea, and there's a rumour going around that stocks of draught Guinness are low and we might be down to just 36 flavours of ice-cream! As you can see, things are now even more desperate than yesterday! Armed staff have been redeployed from the Casino to the bottled water store where we only have enough sparkling left for another six months. 🥴. Pretty bad huh!? 😂
Today's 'quirky' presentation from Ainslie was about Australia – another well-supported presentation, full of weird facts about Oz! Afterwards, we took a quick look at the weather conditions outside… GREY!!! and so headed upstairs to Horizons aka 'God's Waiting Room' for a quiet place to read. Another ego-boost as we were the youngest there by around 50 years! And it was packed! We found a quiet corner and spent the next hour watching the weather outside go from 'just about OK' to 'you must be joking, I didn't pack mittens!'.
Making the most of the weather was therefore a challenge in itself – a game of 'catch the moment'. That moment came (and went) from 1.48pm until 2.17pm… and then it rained! 🧐. Twenty-nine minutes of sunbathing, where it took almost that time to apply the suntan cream! 😟. Back to our Stateroom (where it was warmer!).
Another great meal in the Grand Dining Room tonight – our penultimate dinner there! We skipped tonight's entertainment in the Regatta Lounge. The reason? It was an 'America's Got Talent' contest with a twist! The twist being that the ship's entertainment staff were the contestants and we, the audience, were the judges. Sounded like 'Hell on Earth' to us, with an even greater opportunity for 'whoop-whooping' at an even greater volume! Not our scene at all! 🥴.
Tomorrow it's our final day at sea – and that's going to be a great relief.
---
Day 25 (Wednesday, 3rd) – Sea Day VI
We made it! Our sixth and final day at sea on the Regatta and: we haven't died of boredom nor killed anyone (but we still haven't mastered the AC in our Stateroom). The weather was kinder today – 'pleasantly warm' rather than 'hot', but at least we'd lost that cold breeze and it hadn't rained! 👍. As a result, we got almost two hours on the Loungers on deck this morning, making the most of the blue skies. We missed Ainslie's final presentation in her 'Quirky' series, but we learned we can watch a recording in our Room. Today, it was 'The Quirky Life of Muhammad Ali'.
Following the noon-day announcement (just 200 miles to go until we reach LA), it was back to earth with a bump (and back to the Stateroom) to begin the task of packing. We each played to our skill sets: Ann packed, whilst I watched! 😉. Looking ahead, the weather forecast for tomorrow in LA is a (disappointingly) cool 15℃, so long trousers are at the ready!! 😲
We took our final meal in the Grand Dining Room tonight, where the food and service were as top-notch as it's always been. We're certainly going to miss the quality and variety here, but 'beans on toast' now seems strangely attractive! Like many Cruises, there was the 'big' Variety Farewell Show tonight. Strangely though, no mention of comedian John Wing who's been such a success on previous nights.
And whilst we're talking of missing people, what happened to the fourth member of The Capella String Quartet (who's not been seen for quite a few days now) and the Gym Instructor who failed to appear for any of the pre-arranged sessions? I think we should be told (or at least Agatha Christie should!). Baked Beans also appeared for the first time today at breakfast too! Spooky coincidence? A connection? You decide!! 🧐. (Sorry! It's the change in my medication!)
---
Tomorrow, we disembark and head for Venice Beach, Los Angeles 👍👍
---
Camera Roll
Click HERE
---
Missed a Post?
See below
or click HERE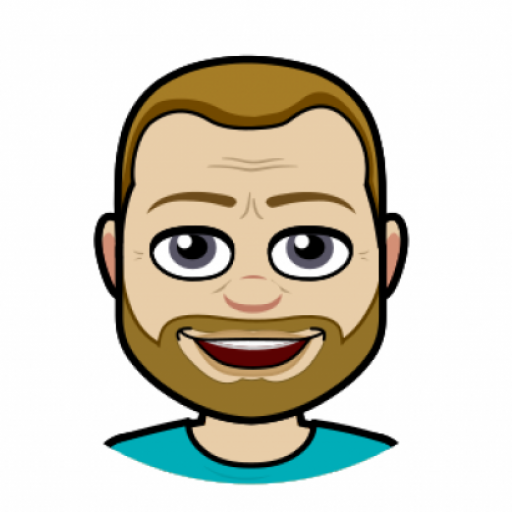 I got into blogging quite late in life, not publishing my first post until 2004 – well into my 40s!  My lifelong love of technology and communication (in all its forms), together with a fondness for the art of writing seemed to be the perfect combination to contribute a few words to the online community. But I'm no Samuel Pepys! If you're looking for deep and meaningful comments on a variety of subjects, then you've arrived at the wrong site! I only pen for pleasure! On average, my posts appear about twice per month, covering family & friends, cinema visits, eating out, holiday experiences and techy stuff. Oh, and as this is my hobby, there are no sponsored links nor adverts here – it's all done with love!
I hope you find it enjoyable, interesting and occasionally, even helpful!