Reading time:
4
minutes...
Morning! 👍 Welcome to Day 3 – our final day in Exford.
You might have missed…
You missed my previous posts? Surely not! OK, just for you, Day 1's post is here and Day 2, here. You're welcome! 😀
Overnight, the free EV charger had done its job (albeit slowly at 3.5kW/h) and we now had 275 miles 'in our tank'. The weather forecast has been all over the place, but all the signs now suggest its going to turn dry – umbrellas packed then!
Today, we're heading for National Trust's Arlington Court followed by a trip to a town I've never been to before – Barnstaple.
9.52am: Where's that promised Sun? It's a misty morning and only 14℃. It might have been dry, but it looked like a very grey day ahead!
Lucky us, as we got closer to our first stop, the mist cleared and out came the Sun. A correct weather forecast? Praise be!
Arlington Court
10.27am: We're here! Maybe a little bit of history to start? Arlington Court was a family estate held by the Chichester family for over five hundred years – and there's a Palmer in there! Sadly, they're no relation, as far as I know (but if you know different, PM me!). The House collection is varied – from model ships to shells – collected over several generations. Built in 1823, and extended in 1860, it has quite a bland facade. However, in contrast, the interior feels cosy and homely.
The location also houses The Carriage Museum, the Formal Garden and the Walled Garden. I'm reminded I was here something like 30 years ago. As usual, I don't remember much of it at all!!
The Formal Gardens
10.27am: The Gardens opened at 10am, so that was our first stop. Obviously in September, from a colour perspective, things are quite limited in any garden, but here the Dahlias were doing a great job of brightening up the space…
…pretty much all the colours of the rainbow…
…well, maybe not ALL the colours…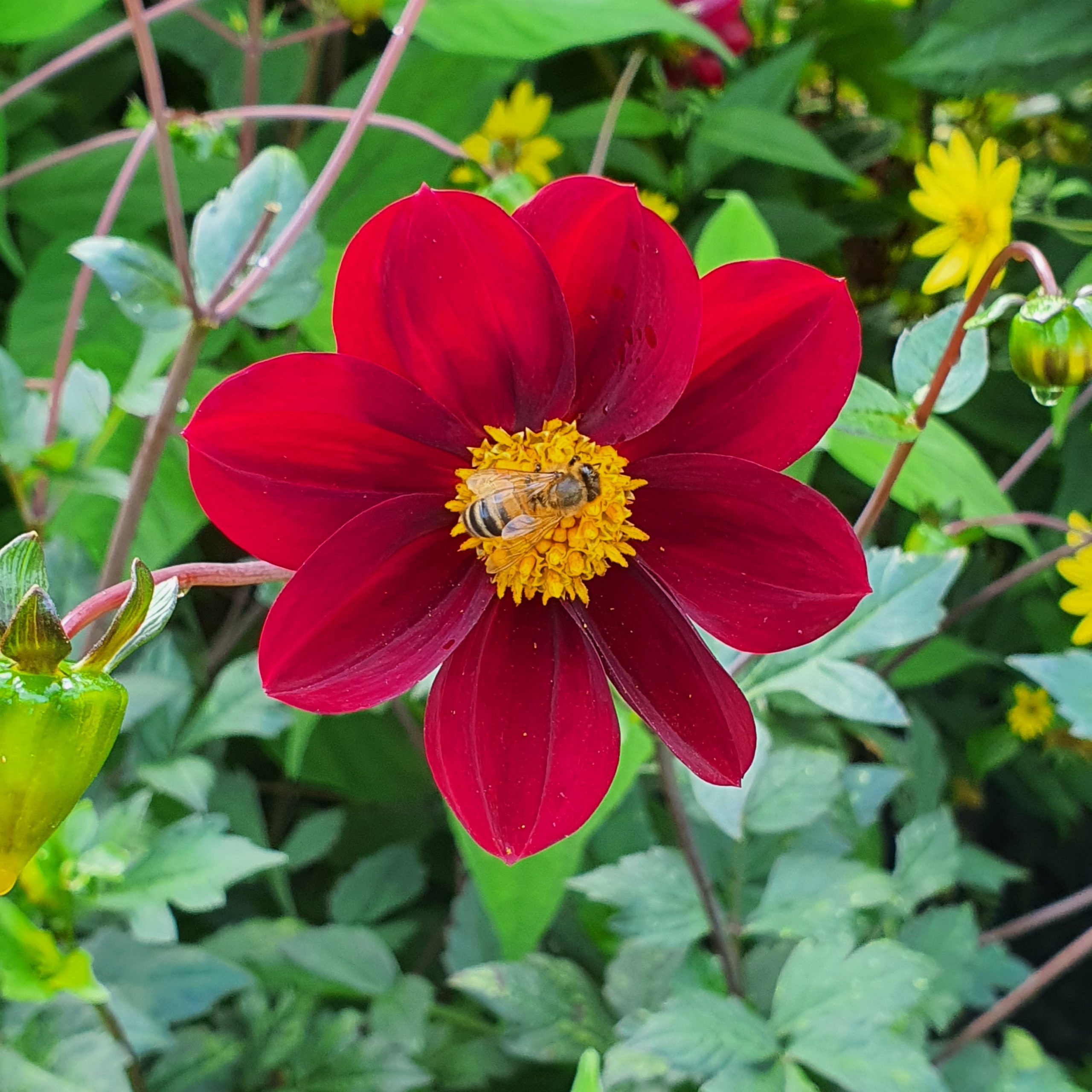 …but pretty close!
Somebody loves their garden!
Next stop – the Walled Garden (next door!)
The Walled Garden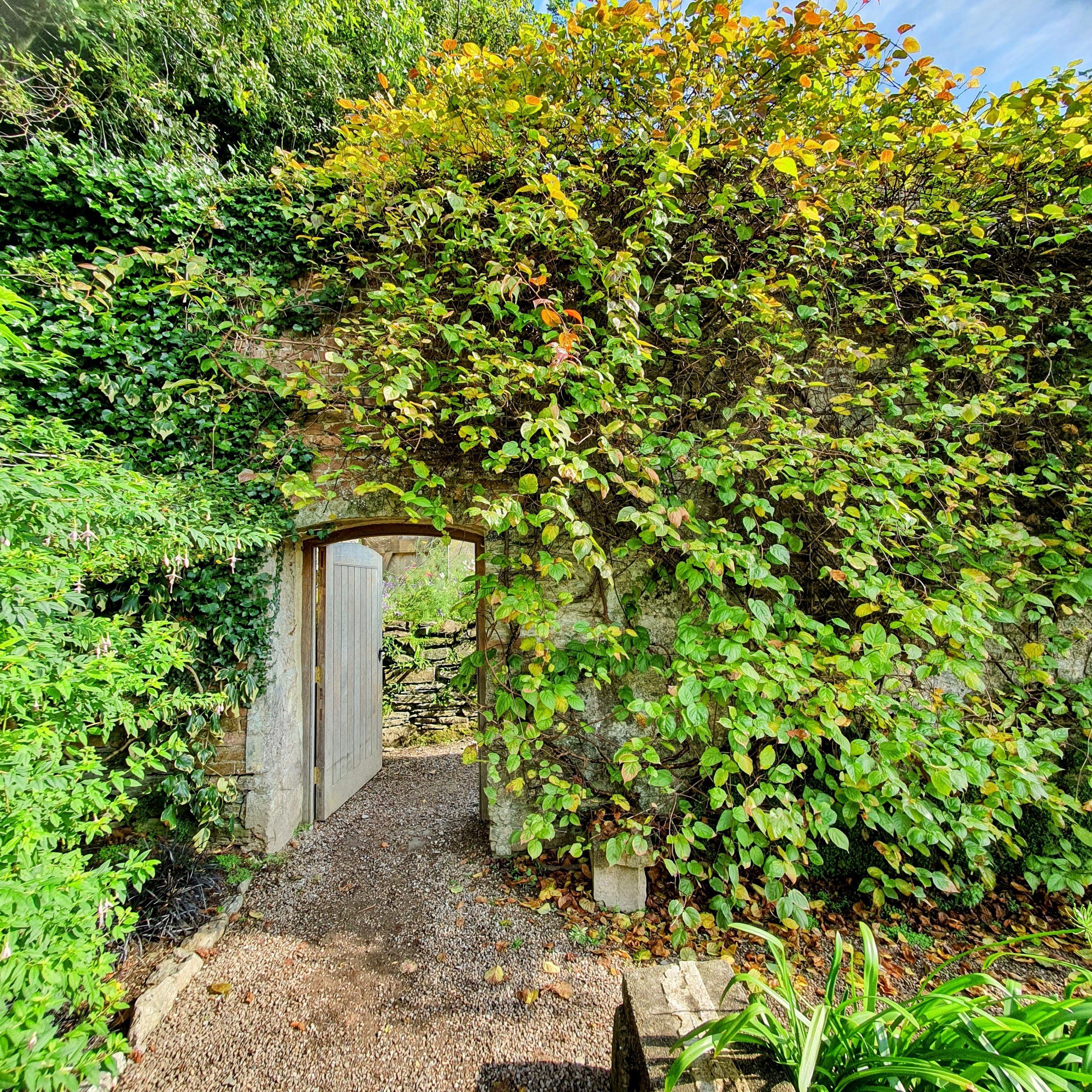 The Formal Garden was very impressive, and we wondered if the Walled Garden would be just as colourful…
It was!!!
10.58am: That was a great start! Now it was off to the House…
The House
The House opened its doors at 11am. We were pretty much the first to be let in (The Trust only admits people in batches these days because of you-know-what). Our priority entrance was a genuine error on our part – we completely missed the orderly queue that had already formed and just rang the bell and went in!!! Non-conformists or what!
In keeping with the majority of National Trust Houses, the upstairs was closed off, but there was still plenty to see…
It was a pity that upstairs was shut-off, but what we saw on the ground floor certainly lived up to the description "cosy and homely". Best of all, it hadn't been OVER-restored.
House ticked-off, we then headed off to see some real horsepower!
The Carriage Museum
11.34am: If you like your horsepower derived more naturally, the display of Carriages here is sure to impress…
There are over 40 vehicles in the collection, most of which are on show.
…ranging from elegant coaches used for state occasions…
…to humble carts used to carry servants…
…something for everyone..! 😁
An impressive display, and all roadworthy too! 👍
11.50am: It had been a thoroughly enjoyable visit to Arlington Court. For me, the display of Carriages was the highlight! Next stop, Barnstaple. The weather had now changed and we were up to 22℃ – a real (pleasant) surprise!
Barnstaple
12.29pm: Nope! I've definitely never been here before! Home to around 46000 residents, Barnstaple's high street' for shopping was really buzzing!
Obviously, the memo about the "High Street in decline" somehow forgot about Barnstaple, where it was great to see so many people out and about actually buying things!
Our weekly dose of 'retail therapy' was therefore well served here today!
12.51pm: Our first stop was the famous Pannier Market. The present market opened here in 1855 and like other towns that also have them, gets its name from the panniers once used to carry goods to market on the back of pack animals (Thanks Wikipedia!!!)
We learned that today was a general market, but each day has a designated category:
Tuesdays – General Market
Wednesdays – Antiques and Collectables
Thursdays – Craft and General Market
Fridays and Saturdays – General Market
All this excitement of actually seeing a town centre looking so busy brought on the need for a quick snack. The restaurants in the town were already filling-up, so we wandered 'off-piste' towards the water…
Clearly, this area had been re-developed and looked all the better for it. There was an extensive walkway along the waterfront and the majority of the space had been pedestrianised. Luckily, there were a few restaurants to choose from, but one caught our eye…
…mainly because of the architecture. Clearly, there was some history here, so we stepped inside…
It was good to see that the place had had new life breathed into it (on more than one occasion!) and its current identity was clearly enjoying a good level of business.
1.10pm: Inside was cavernous and not your usual cram-them-in style at all. It felt relaxing and airy – and immediately got our vote! Naturally, we sampled the menu (it would have been rude not to!!). Here too, there was a real buzz about the place!
1.51pm: Our final stop of the day completed our weekly need for a bit of retail therapy in the shape of a "good ol' fashioned family department store".
Founded in 1895 by Arthur Banbury, Banbury's is still a family-owned business with another outlet in Tiverton. There aren't many like this left these days, but judging by the stock levels and the range – it was in rude health! Go take a look and be transported back to a bygone age!
2.46pm: After a final look round the shops, we headed to the car – and back to the Inn.
3.38pm: It took us longer than planned due to the main A361 being closed without explanation. We discovered how narrow many of the minor roads can be around these parts, after taking a nearby suitable B-road back to base. We also learned exactly how wide the car is whilst negotiating with the locals, heading towards us at 200mph, whilst attempting to pass each other! Eeek!
6.45pm: Our final evening meal in the Inn's restaurant tonight.
Tomorrow: After breakfast, we're saying goodbye to Exford and 'leg 1 of our holiday, heading for our next accommodation – Boscastle House in err, Boscastle.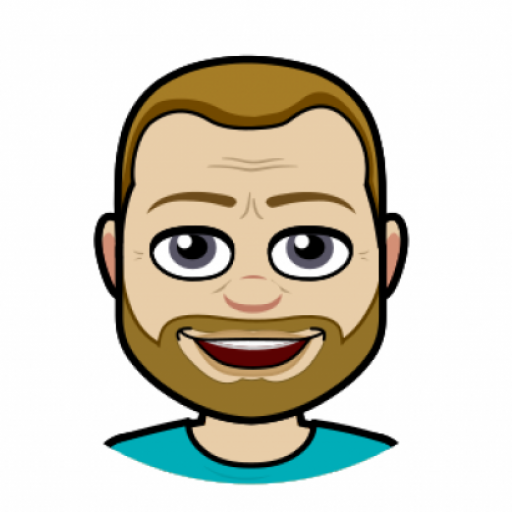 I got into blogging quite late in life, not publishing my first post until 2004 – well into my 40s!  My lifelong love of technology and communication (in all its forms), together with a fondness for the art of writing seemed to be the perfect combination to contribute a few words to the online community. But I'm no Samuel Pepys! If you're looking for deep and meaningful comments on a variety of subjects, then you've arrived at the wrong site! I only pen for pleasure! On average, my posts appear about twice per month, covering family & friends, cinema visits, eating out, holiday experiences and techy stuff. Oh, and as this is my hobby, there are no sponsored links nor adverts here – it's all done with love!
I hope you find it enjoyable, interesting and occasionally, even helpful!