Reading time:
3
minutes...
SATURDAY the 22nd.
Morning Bruce, morning Sheila 😉
6.00am: Up before the Lark today!
It's our last full day here in Hobart and we've two attractions planned.
After yesterday's adventure at sea, we're firmly on terra-firma today! We're taking the short walk to Salamanca – the famous Saturday Market – and afterwards, we're motoring to Port Arthur, the World Heritage site (and ex-prison) – it's one of the best preserved prisons in Australia.
Salamanca Market
08.10am: With the Larks fed-and-watered we took the short walk to the Market…
With over 300 stalls, there was something for everyone…
(click on the thumbnails below for the 'big picture').
We stocked-up on provisions for the journey to Port Arthur as well as breakfast tomorrow.
08.45am: We had a good look round and then took a slow walk back taking in the view towards our Apartment…

We had a quick breakfast back at base and then hit the road for the 90 minute journey ahead.
10.50am: Port Arthur

It was hassle-free journey there, but if you are going follow in our footsteps, be aware that the final twenty-minutes-or-so are single-carriage roads that are very twisty-turny, with only a few passing points.
On arrival, parking was very straightforward as they have plenty of parking spaces (free).
In truth, we weren't quite sure what we were going to see when we got 'inside'. All we knew was that it was a World Heritage Site and it was 'very popular' – and after all, there is only so many ways you can show off an old prison complex!
How wrong we were! 🤔
Even though the exterior looked a bit plain, once we got inside…
…simply based on the number of ticket-points, and the general marketing, we realised we were in for something big! It's 39AUD (£22 approx) each to get in, and as it turned out, it was worth every cent!


With our tickets in-hand, we were pointed to the waiting area outside where, after a short wait, 'Jet' our Guide introduced us to the Prison…
In short, when the Prison became fully established in 1833, it became 'home' for all the worst of Australia's habitual criminals. It was modelled on our Pentonville prison and by 1840, it contained over 2000 convicts. Over an 80-year period over 165000 crims were transported to serve between 7 to 70 years in Oz. Children as young as 9 could (and were) part of the export process. Australia simply became the dumping ground of UK's criminal classes.
Once in Port Arthur, various approaches to rehabilitating the in-mates were tried, but they all failed. Eventually, the Prison closed down in 1877 – and because of the nation's embarrassment of treating these humans so badly, over the years that followed, the Prison was slowly air-brushed from Australia's history (they even renamed 'Port Arthur' to Carnarvon for a while).
In more recent years, in a moment of ultimate reflection, the Australian Government re-thought it all and brought most of the Prison back to life – warts 'n' all. And this is what you see today… and there is PLENTY to see.

For us, the first thing we felt was the enormity of the place – it was like a small town! With over 30 buildings, beautiful grounds and gardens, think Beamish but with handcuffs & leg-irons!
Various buildings had been faithfully restored/re-created…
…and for us, the most jaw-dropping was the two Churches…
…and if that wasn't enough to wow the senses, they'd restored many of the actual prison cells too…
…complete with a reminder of the Prison's 'rules'
They even had a unique set-up for the worst offenders whereby even when they attended Church on a Sunday, they were confined to individual pews, unable/forbidden to speak with their like-minded colleagues…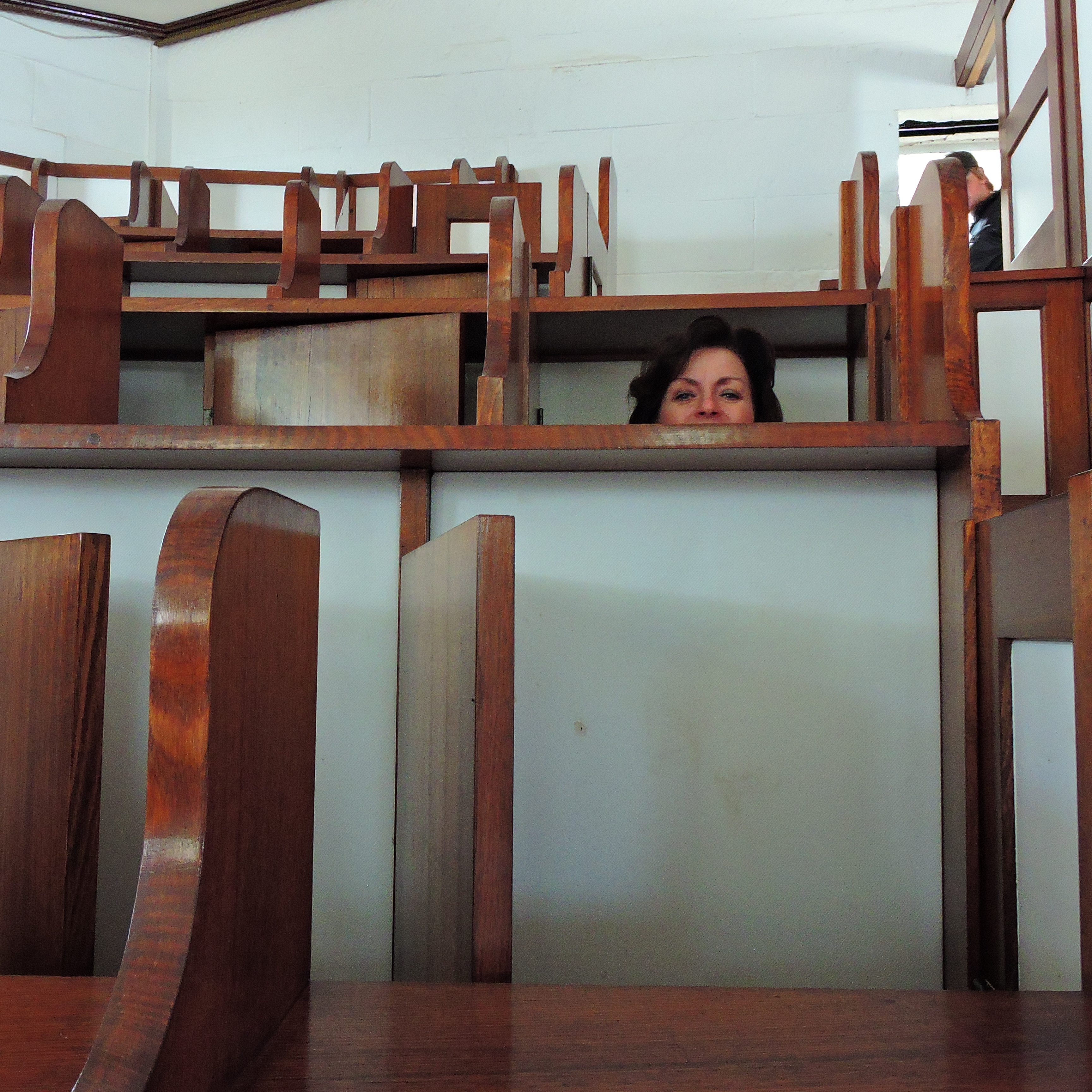 Here's Ann demonstrating that solitary really meant solitary… even in Church!
And of course the ultimate deterrent for all the in-mates was that in order to escape, you also needed to be a good swimmer too (assuming you knew which direction to swim in.. and they likely didn't!).
12.10pm: Part of the attraction included a catamaran-like boat tour around the Bay – and it reminded us that escape from here was pretty much impossible given the tide and current.
12.45pm: The weather had now improved beyond what was forecast – and we were feeling it! Most of us have heard the expression: "Four seasons in a day". Here in Tassie, the locals talk of "Four seasons in an HOUR" – and we'd now experienced TWO temperature-shifts since we arrived.
We were starting to flag and so we spent the next hour wandering around soaking-up some of the other buildings and taking in the views.
2.00pm: And that was our lot! We were shattered, so we headed for the Restaurant for some coffee to keep us awake in preparation for the drive back to the Apartment.
Wow! what a day!!! Our expectations were exceeded in every possible way. We thoroughly recommend this place – it'll take a good half-day to experience the essentials, but you could easily make a day of it. If it all becomes too much then your ticket is good for TWO consecutive days. A bargain! 😉
---
Tomorrow, we check out of our Apartment in Hobart as we're driving up to Richmond and the Freycinet National Park. We'll be checking-in to our new home for a single night – Meredith House, Swansea later tomorrow.
G'night! 😴😴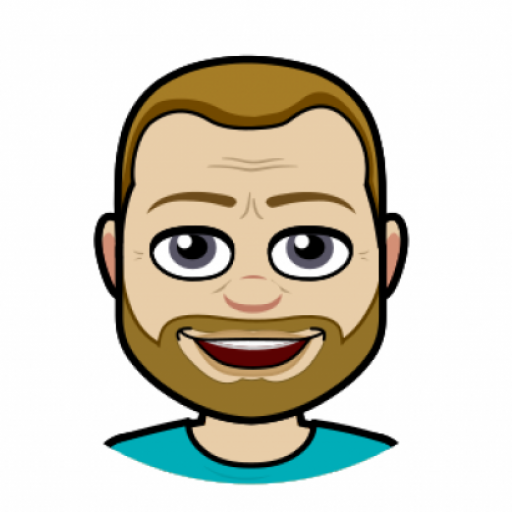 I got into blogging quite late in life, not publishing my first post until 2004 – well into my 40s!  My lifelong love of technology and communication (in all its forms), together with a fondness for the art of writing seemed to be the perfect combination to contribute a few words to the online community. But I'm no Samuel Pepys! If you're looking for deep and meaningful comments on a variety of subjects, then you've arrived at the wrong site! I only pen for pleasure! On average, my posts appear about twice per month, covering family & friends, cinema visits, eating out, holiday experiences and techy stuff. Oh, and as this is my hobby, there are no sponsored links nor adverts here – it's all done with love!
I hope you find it enjoyable, interesting and occasionally, even helpful!